By: Alex Washburn & Regan Staudt
The hometown Wolves win 84-39 over Meadowbrook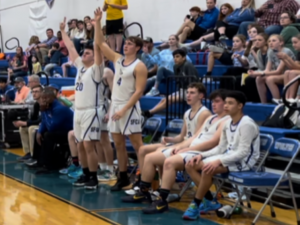 As the first round of the playoffs got underway Tuesday night, St. Francis and Meadowbrook entered this game with only six wins during the regular season.  The Wolves got out to a quick double-digit lead early by creating turnovers and crisp passing. After the first quarter, the visiting Mustangs trailed 28-7.
The Wolves lead continued to grow in the second quarter as the rebounding began to take over. At the half, St. Francis had three players on pace for double-doubles. The score at the half was 50-16 in favor of the Wolves.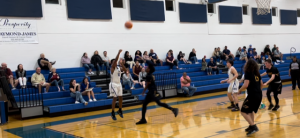 Second Half
The second half triggered a running clock against the Mustangs. Meadowbrook was able to find some success at the free-throw line, but it wasn't enough to close the deficit. With the lead, bench players for St. Francis were able to play significant minutes. Senior center Justin Montgomery, who averages only one point and rebound per game, reached nine points and eight rebounds.
"We're just gonna keep pushing all the way to the championship. We're gonna get 2023 up there."-Justin Montgomery
The scoring leader for the Wolves was freshman forward Brett Thomas who amassed 18 points. Co-team captain Cole Redding recorded eight points, eight rebounds and three assists. The leading scorer for Meadowbrook was Senior Joshua David with nine points.
In round two, Wednesday night St. Francis will take a road trip to Ocala to take on Redeemer Christian who won 75-33 over Cornerstone Academy.
"We're gonna keep the same energy, keep the momentum going to try to win tomorrow"-Brett Thomas
Thomas with another 3 pic.twitter.com/rHnmFKL2G2

— Jennifer Blardonis (@jenblardonis) February 8, 2023
St. Francis Co-Captain Tyler Dey Postgame Interview
St. Francis Coach Larry Walker Post-Game Interview
Meadowbrook Coach Brian Paige Post-Game Interview