In a must-win game for Santa Fe, the Saints went toe-to-toe with Eastern Florida State in a key conference matchup. It was a back-and-forth battle as the Saints defeated the Titans off of a Jalen Speer game-winning bucket in the final seconds, 81-79.
First Half
The Saints jumped out to a quick 15-5 lead in the first 8 minutes. Forward Nikolaos Noumeros started with 6 quick points. The Titans bounced back quickly, however, as they took a 23-21 lead with about 5 minutes remaining in the first half.
There were seven ties in the first half, but a 9-2 Santa Fe run, including a three-pointer from freshman guard Cole Deptula, gave the Saints a 36-31 lead going into the half.
It was a first half of defense, as neither team had a field goal percentage above 35%. However, the Saints got to the foul line 9 times in the first half and they made all of their free throws.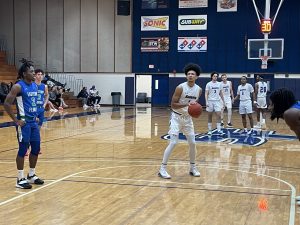 Second Half
The second half continued to bring back-and-forth entertainment in the game. Neither team had a lead greater than five points.
The Saints had a 79-77 lead with about 20 seconds left. Titans forward Andres Burney would then hit a dunk to tie the game with 12 seconds remaining. This marked the 20th tie of the game.
This would set the stage for sophomore guard Jalen Speer. With 12 seconds left, Speer drove down the lane and hit a tough left-handed floater to defeat the Titans 81-79.
"It's important to have a veteran in that situation, a guy who's confident in his abilities," said Head Coach Chris Mowry.
Speer finished with 18 points and 10 assists.
Eastern Florida State came into the game outrebounding their opponents 44-28 on average. Last night was a different story, however, as they finished 40-39 on the boards. The Saints totaled 16 offensive rebounds, a season-high for the team.
The Saints were also able to take care of the ball, as they recorded only eight total turnovers.
Despite shooting worse from the field, the Saints went 16-17 from the foul line, compared to 2-6 for the Titans.
Player of the Game: Andres Burney (EFS)
Forward Andres Burney had an outstanding performance despite the loss. The sophomore from Alabama dropped 35 points on 17-24 shooting to go along with 17 rebounds.
Burney's presence on the defensive side was also felt, as he recorded two blocks and three steals.
The Saints (15-11) will take on St. Petersburg this Saturday. With only three conference games left on the schedule, the Saints will look to finish the regular season string to make the FCSAA/NJCAA Region 8 State Tournament.