Hilliard Red Flashes 49 Hawthorne Hornets 59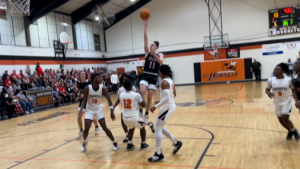 This matchup featured two teams who won their district tournaments just one week ago. Hilliard beat Madison County without much resistance while Hawthorne needed to come from behind to upset Newberry at the final buzzer. The Hornets and Flashes also met on December 21 where again Hawthorne overcame a nine-point fourth-quarter deficit to win 70-69 in overtime.
First Half
Both teams started out strong with clean and focused play. Hawthorne Junior Isaac Taplis was able to hit two three-pointers while Hilliard led by star Sophomore CJ Hall was efficient at the free-throw line. The score at the end of the first eight minutes was Hawthorne leading 15-13. Hawthorne's rebounding was able to take over in the second quarter as Sophomores CJ Ingram and Demetrius Brown were able to snag extra possessions for the Hornets. The Red Flash offense struggled mightily by scoring only 5 points in the period and committing several unforced turnovers. The halftime score was Hawthorne 28, Hilliard 18.
Unforced turnover by Hilliard and Hawthorne's Leland Johnson makes them pay. pic.twitter.com/B9I782tCdk

— Alex Washburn (@alex_washburn20) February 17, 2023
Second Half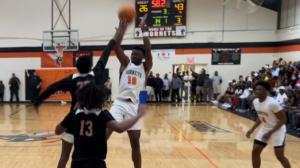 Ingram helped to put the Red Flash deficit out of reach in the third quarter by relying on his midrange jumper and transition opportunities. The Hornets also made an adjustment against Hall. Brown took the duty of guarding Hall most of the night and held him to 10 points under his scoring average. Hall also got relegated to the bench after getting his fourth personal foul in the third. The Hornets grew their lead to 21 at the end of the quarter. Red Flash Junior forward Kevin Thomas Jr. played with much heart in the fourth, even cutting the deficit to ten. Hilliard just ran out of time as Hawthorne earned a rematch with a bloodthirsty Newberry side.
"I'm looking for a barnburner. It's going to be a great game."-Coach Greg Bowie
Scoring Leaders
Hawthorne: CJ Ingram 23 points, 12 rebounds, three assists and two steals; Leland Johnson 10 points, four assists, four steals and three blocks; Demetrius Brown 11 points, five rebounds and two steals.
Hilliard: Kevin Thomas Jr. 19 points and five rebounds, CJ Hall 11 points and six rebounds.
Lookahead
The winner of this game would play the winner of Madison County at Newberry. The hometown Panthers won 55-41 setting up a second date with the Hornets. The game will be played at Newberry, just as the previous matchup before. The game is scheduled for Tuesday, February 21 at 7 p.m. with the victor playing against the winner of Williston at Wildwood. If the first game between these two teams was any indication, the fans will be in for a special treat in the regional finals.
Hawthorne Coach Greg Bowie Postgame Interview
Hawthorne Leading Scorer CJ Ingram Postgame Interview