By: Anna Tsemba and Tyler Kenyon
The Buchholz Bobcats baseball team took on the Flowery Branch Falcons Friday night. The first game of the season was played at home. Bobcats started strong, took an early lead, and finished the game with a victory of 4-2.
The Pace of the Game
The pace of the game began with quick scoring for the Bobcats. By the second inning, the score was 4-0. The Bobcats took this an opportunity, while the Falcons were feeling out the field, to make significant and swift moves. After the fourth inning, the pace of the game changed. The innings were short and fast to strike out for both teams. Very little play happened beyond the batting cage.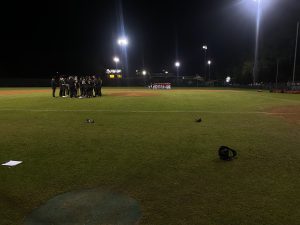 One of the most impressive plays happened in the fourth inning. The play was done by Anthony Wilkie, Kyle Brewer and Cooper Collins. During the play where a Flowery Branch player was at 3rd base trying to run to home plate, there was some back and forth between the three defensive players to get him out. Cooper Collins tagged the Flowery Branch player out. Ending the inning and not allowing Flowery Branch to score.
Throughout the fifth, sixth, and seventh inning, few hits, runs and no more points were scored. Both teams slowed the pace and could not make the plays necessary to allow their teammates to score. Finally, first baseman Noah Hayes forces the Flowery Branch player out, ending the seventh and final inning of the night.
Pitching and Improvements
When talking about Buchholz pitchers, Anthony Wilkie and Connor Brown, did an incredible striking out. Flowery Branch players before they could put players on the bases throughout the game. In the fourth inning, the Bobcats made simple mistakes in catching and passing. Unable to catch the ball and move it quickly enough to base.
This allowed the Falcons to move forward and score two points in the inning. Beyond that, there was little play on the field. Improvements for both teams would be batting and reading the pitcher. Hoping to see more play from the players moving forward in the season.