The Florida Gators' second spring under head coach Billy Napier is currently underway, with practice having started this past weekend.
After just a 6-7 record last season, fans are ready to see if Napier and his staff can turn things around.
On that spring ball grind. pic.twitter.com/dUEmQ5VURF

— Florida Gators Football (@GatorsFB) March 6, 2023
On Saturday, strength and conditioning coach Mark Hocke spoke to the media about changes he's seen in the team and what expectations he has for the new season.
Gators Leaders
With Ventrell Miller, Anthony Richardson and Gervon Dexter headed to the NFL, the Gators are looking for new leaders.
Coach Hocke believes the year-two players are taking the reins on the program, saying that RB Trevor Etienne, LB Shemar James, DB Devin Moore and safety Miguel Mitchell stand out to him.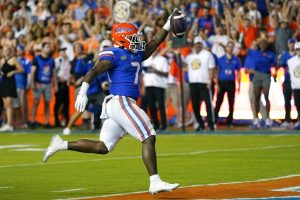 Hocke explained that they're prime examples of what is expected in and out of the building, and how they help the newer guys have a better understanding of how things are to go within the program.
New Changes
The Gators are coming off a season which saw losses to Vanderbilt, Kentucky, LSU and Florida State.
Hocke believes having an early bowl game gave the team time to debrief, think and reminisce on the season. He said the main things the Gators are looking to change is accountability and a fresh start.
He explained how the staff feels having the one-on-one meetings throughout the facility asking "what do you think needs to be improved" has helped lead the team, with players wanting to work on discipline and being more accountable.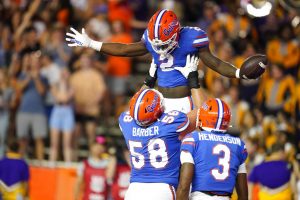 Year 2 Preview
When Coach Napier was at the podium, he said " I see more detail, I see more discipline, and that comes with a better understanding of what the rules of engagement are."
He explained that they're trying to keep themselves and the players from being consumed in what happened last season and looking forward to the present and what's to come in the fall.