By Regan Roberts and Izzy McGarvey
On Saturday, April 1st, the No. 2 Santa Fe Saints looked to avoid a series sweep in the final game of a three-game series against the Seminole State Raiders. The Saints' only three losses this season have come against the Raiders. However, the Saints' performance was dominant, and they beat the Raiders 15-4 in six innings. The Saints improve to 32-3 overall and 8-3 in conference play. 
Three big innings, four homers, and 14 hits for No. 2 Santa Fe Baseball in a run-rule victory today over Seminole State! #SicEmSaints

Hogue left the yard twice, while Herrholz and Rodriguez (walk-off) each added one long ball. Phillips was the winner on the mound. pic.twitter.com/h0nNOgaf3W

— Santa Fe Saints (@santafesaints) April 1, 2023
The Raiders struck first in the second inning with a two-run home run by Ryan Recio to gain the 2-0 lead. But, the Saints answered in the bottom of the second with a RBI sacrifice fly from Grant Gallagher and a RBI single by Anthony Fimiano to tie the game 2-2. Lead-off hitter Hunter Keen tripled, drove in two runs and scored himself on an error by the Raiders to give the Saints the lead 5-2. Josh Hogue followed up with a solo home run, tacking on another run to the Saints' lead.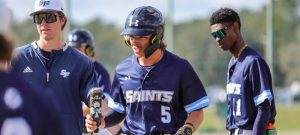 Saturday Sluggin'
Seminole State responded in the fourth with a 2 RBI single from Garrett Brewer to come within two runs, the Saints still up 6-4. The Saints continued pouring on runs in the fifth inning when Hogue hit a two-run home run, his second home run of the day. Jahlani Rogers walked, and JP Herrholz hit a two-run home run, making the score 10-4.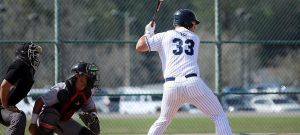 The Raiders had no response in the top of the sixth inning, but the Saints continued their offensive showcase in the bottom of the 6th. Keen led off the inning with a double, then Hogue was hit by a pitch. Rogers followed up with a 2 RBI double to score Keen and Hogue, Santa Fe up 12-4. Herrholz produced again with a double. Zeth Rodriguez ended the game with a three-run walk-0ff home run. The game ended with a score of 15-4 in six innings under the run rule.
https://twitter.com/Zeth2B/status/1642254426000748544?cxt=HHwWgMCzyeHsusotAAAA
Looking Ahead
The Saints continue conference play on Wednesday, starting a new series with Daytona State. Their next home game is next Friday, April 7th. They then have a series with No. 5 College of Central Florida as they look to take control of the Mid-Florida Conference Standings.
You can find their season schedule here.