For the first time in over a decade, the Oak Hall Eagles baseball team has won a District Championship.
The Eagles won their title in style with an 11-1 run-rule victory against the Saint Francis Catholic Academy Wolves. From the batter's box to the mound, Oak Hall controlled every aspect of the game from start to finish. Everything combined for a perfect storm on Wednesday afternoon for the Eagles to claim their first District Championship since 2011.
Troy Freeman pitched another stellar game to guide Oak Hall to the win. In his eleventh start of the season, Freeman spent six innings on the mound and only allowed three hits, two walks and one run. He also tallied up four strikeouts along the way.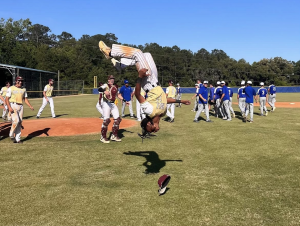 At the plate, Darion Medley and Jack Steen lit up the batter's box against their old squad. Medley and Steen originally played for Saint Francis before transferring to Oak Hall in the summer of 2022. That decision worked out extremely well for both players and the Eagles baseball program as a whole.
Medley knocked out his first home run as an Eagle en route to a 2-for-3 performance at the plate with two runs scored and two RBIs. Steen went a perfect 3-for-3 in the batter's box with two RBIs and one run scored. Jack Kuzmicki chipped in with a two-RBI single in the first inning, while Ethan Szlachetka went on to hit a walk-off sacrifice fly in the fifth inning.
Medley Starts Off With A Bang
The Wolves initially looked poised to pull off an upset in the top of the first inning. After Mason Bell landed on first with a one-out walk, Nicolas Gomez-Vera knocked a double all the way into the corner of left field to give Saint Francis a 1-0 lead. Freeman caught Gomez-Vera stealing at third to get the situation back under control. He eventually forced a line out to left field to end the inning.
Now facing an unexpected early deficit, the Eagles had to fire up their bats right away. Jackson Beach led off the bottom of the inning with a walk, and Harrison Beach followed him up with a line drive into left field. The latter Beach brother went on to steal second base to give Oak Hall two runners in scoring position.
Kuzmicki then entered the batter's box with another golden opportunity to bring both Beaches home. He nailed a strong hit into left field to land on first and score two runs for the Eagles. Just like that, Oak Hall was already back on top. But they were far from done.
Medley stepped up to the plate. He let the first pitch go by for a ball. The Saint Francis then attempted to pick Kuzmicki off three times in a row. With Medley still at a 1-0 count, the pitcher recomposed himself and let a fastball go. Medley was ready for it.
"I saw the pitch I wanted, and I drove it," Medley said. "I finally barreled one up, and it went pretty far."
DARION MEDLEY. NO DOUBTER. Medley blasts a two-RBI home run over the left field fence to give Oak Hall a 4-1 lead at the end of the first inning. pic.twitter.com/KhhZdIwa63

— Jack Meyer (@jackmeyerespn) May 3, 2023
Pretty far may be an understatement. Medley's ball cleared the left field wall with ease for a homer. As the dugout rushed out to home plate to greet him, the scoreboard now flipped over to read 4-1 for the Eagles.
Oak Hall Goes On Cruise Control
The second inning came and went relatively fast, with both sides going down 1-2-3 at the plate. Saint Francis still appeared to be within striking distance entering the third inning, but they did not stay there for long.
With the stakes higher than ever before, Freeman refused to entertain any ideas of a Wolves comeback. He once again sat down the first three batters he saw in the inning. With the district title on the line, Freeman felt some extra motivation on the mound throughout Wednesday's matchup.
"This whole game made me so excited," Freeman said. "I was locked in at the very start. To be honest, I was just trying to throw strikes and get those outs, and my fielders made the plays they needed to make the whole game. It was perfect."
As Freeman continued taking care of business on the mound, the Eagles got back to work at the plate. Medley and Gavin Jones advanced into scoring position on back-to-back walks and a wild pitch. Steen proceeded to blast a double into deep center field to drive both runs in.
Jack Steen sends a double deep into center field to drive in two more runs and give Oak Hall a 6-1 lead. pic.twitter.com/FCzIJLXUn8

— Jack Meyer (@jackmeyerespn) May 3, 2023
In the next at-bat, Steen scored on a wild pitch. The Wolves nearly tagged him out at home plate, but he slid to narrowly avoid the catcher. When the umpire called him safe, Steen jumped up and yelled in triumph as he made his way back to the dugout.
"Coach Maris told me, 'Hey, you have to get a good read right here. If it's a passed ball, we need you to score right here," Steen said. "I saw it go right over [the catcher's] head, so I ran in and I slid on the inside part of the plate because he was covering the outside. It was definitely a close play, but I was definitely safe."
Oak Hall Keeps Their Momentum Rolling
Szlachetka went on to score on a Saint Francis error in the subsequent at-bat, while Neil Ruth eventually made it home on a double steal. By the end of the third inning, Oak Hall had jumped out to a commanding 9-1 lead.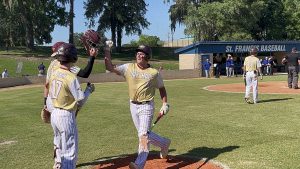 The Eagles refused to let up as the afternoon went on. Freeman allowed a walk in the top of the fourth inning before picking off the runner at first base. He then forced back-to-back flyouts to retire the Wolves. Later in the inning, Freeman gave the Eagles some assistance in the batter's box as well. He hit a sacrifice fly to score Kuzmicki in the bottom of the inning to take a 10-1 lead.
In the fifth inning, Saint Francis briefly put up some resistance in the batter's box. Christopher Durstine and Joey Calhoun knocked in a pair of singles to give the Wolves their first multi-hit inning of the game. However, a pop-out to first base and a double play from Freeman, Kuzmicki and Steen ended the inning without any runs crossing home plate.
Szlachetka Seals The Deal
After a quiet fifth inning at the plate, Oak Hall finally delivered the dagger in the bottom of the sixth. Jones led off with a double for the Eagles, while Emory Ezzell and Steen made it on base via a walk and a single, respectively. Ethan Szlachetka then entered the game as a pinch hitter as the Eagles looked to put this one away for good.
Szlachetka has been in and out of the Eagles' lineup in recent weeks after missing nearly two months with a right knee injury. But when the Eagles needed him the most, he showed up and did his job. He knocked a fly ball into right field that allowed Jones to score the winning run.
Ethan Szlachetka with the walk-off sacrifice fly! Oak Hall wins their first District Championship in over a decade with an 11-1 victory over the Saint Francis Catholic Wolves. Darion Medley led the charge on the bats with two hits (including a home run), two runs and two RBIs. pic.twitter.com/5pTjywq9nk

— Jack Meyer (@jackmeyerespn) May 3, 2023
"It's been a rough year for me so far, with the injury and I've been kind of struggling as of late," Szlachetka said. "But coming up in that spot and getting that hit, it feels really good, and I'm really excited."
The Winner Takes It All
Winning the 2A District 4 Championship just adds on to what has already been a fantastic season for the Eagles. Their 17-5 record marks the best season Oak Hall baseball has seen since 2005. Additionally, Eagles Head Coach Kevin Maris was named the Florida Athletic Coaching Association's Class 2A Coach of the Year. Winning the school's first District Championship in over 10 years shows just how much of an influence Maris has had on the Oak Hall baseball program.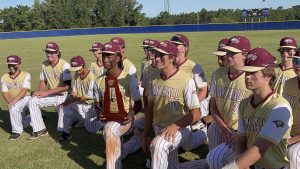 "It was nice to bring the District title back to Oak Hall," Maris said. "I couldn't ask for a better group of guys. For us to come out and finish off the District Championship the way we did, we looked forward to it."
Meanwhile, Kuzmicki earned his second consecutive FACA Class 2A Player of the Year nod. Diamond Prospect Media also named Kuzmicki as a finalist for their 2023 DPM Player of the Year award. He also ranks in the top 10 for all Florida batters in batting average (.597), slugging percentage (1.016) and RBIs (45). Kuzmicki currently sits atop the Florida leaderboard for RBIs.
"I've put a lot of work into baseball," Kuzmicki said. "I've been playing since I was four years old, I've spent whole summers playing, and I love it. It feels good to see it all come together at the end. All the time training, it's paid off."
But Kuzmicki has not done it alone. Every single player on Oak Hall's roster has made their mark on the Eagles baseball program in some way, shape, or form. Now, all of their hard work has finally paid off. The Oak Hall Eagles are District Champions.