P.K. Yonge's football team fought hard Friday night, but had no answer for West Nassau's Josh Bruton, who dominated with 217 yards and three touchdowns to lead the Warriors to a 22-14 win.
Opening Fireworks
After an opening punt, P.K. Yonge (3-3) recovered a fumble on the return to retain possession. On the next play, quarterback Lawrence Wright Jr. broke a 75-yard touchdown run, and a successful two-point conversion gave the Blue Wave an early 8-0 lead.
On the next possession, West Nassau (2-5) sophomore running back Skyler Freeman recovered his own fumble for a gain of 8 and Bruton scored a 17-yard touchdown and the two-point conversion to tie the game at 8.
Costly Mistakes Doom Blue Wave
Starting in the second quarter, P. K. Yonge made several mistakes that swung the game in West Nassau's favor. The first was a holding penalty that negated a 35-yard touchdown run from Devin Johnson, as the drive would end in a turnover on downs.
Bruton collected his second touchdown, this time a 15-yard rush to put the Warriors up six.
On the next drive, the Blue Wave reached the 6-yard line. However, another holding penalty pushed them back on second and goal, and the clock ran out before the ball was snapped after the penalty. This was a golden missed opportunity to take the lead before halftime, and not getting points from that drive would prove consequential.
On the first possession after halftime, a similar story unfolded. P.K. Yonge lost 15 yards from penalties on consecutive second downs, forcing them into a fourth-and-16. It appeared Wright had found his man to move the chains, but Warrior senior Stran Copher dove backward to intercept the ball and win back possession.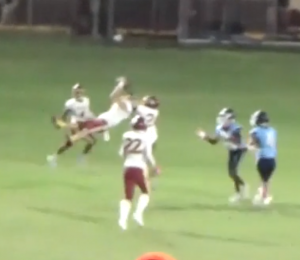 Fourth-Quarter Comeback Falls Short
To begin the fourth quarter, Wright rushed for a 15-yard touchdown but failed to convert the two-point try. The game was tied at 14 and it appeared P.K. Yonge was regaining momentum.
However, the next two drives put the game away for West Nassau. A good return from Freeman set the Warriors up at the 44, and Bruton reached the end zone from 7 yards out to take a 22-14 lead.
On the final drive of the game, Wright was sacked for a loss of 11, and two plays later he threw the game-sealing interception to Nic Braddock. Despite Wright's efforts, accounting for 258 of the Blue Wave's 289 total yards, the game would go down as a loss.
When asked about the rest of the season, P.K. Yonge coach and former UF standout Willie Jackson Jr. focused on the need for consistency, saying "as long as we improve week to week we'll be OK."
Next week
P.K. Yonge looks to spoil Oak Hall's (6-0) undefeated season at 7 p.m. Friday, while West Nassau returns home to face Fernandina Beach (3-3) at 7 p.m. Friday.