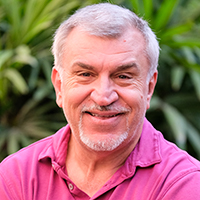 Show Times
Timezone
:
EST
[UTC-5]
Mon:
Tue:
Wed:
Thu:
Fri:
About the Show
Listen live  weekdays from noon – 2 p.m. to Sportscene with Steve Russell.
Steve Russell has been the Sports Director of AM850 since 1998 and also serves as the Sports Director for WUFT-TV.
Russell is a graduate of the University of Florida's College of Journalism and Communications and has worked in the broadcast industry since the 1970's in Gainesville.  In addition to his duties as Sports Director, Russell also works for the University Athletic Association and IMG as one of the radio voices for gator baseball broadcasts.  Steve Russell has also worked play-by-play and as a color analyst for Gator volleyball, women's basketball and softball.
A native of Middletown, New York Russell is an avid NY Jets fan.  He has two children, daughter Jennifer and son Drew who is graduate of the UF Journalism College and works for Gatorvision and other broadcast properties as a camera operator.
In his broadcast career in Gainesville, Russell has also worked at WYKS Radio, 97X Radio, and at WCJB TV-20 as a sports anchor and reporter.  Steve also hosted an oldies show "Rock Reflections" for many years spotlighting music from the 1950's through the 1970's.  For 10 years he also served as the first ever Public Information Officer for Alachua County government from 1988 to 1998 and served for several years on the Gainesville Sports Organizing Committee.
In his spare time, Steve enjoys playing basketball, golf and reading.  Steve was a youth coach for middle and high schools in the area for over 20 years until retiring from coaching in 2015.  Russell enjoys helping out various charities as well.
Call the show:
352-392-TALK or 877-392-TALK
352-392-8255 or 877-392-8255