Former University of Florida Gator wide receiver Percy Harvin was traded today. The Minnesota Vikings traded the speedster to the Seattle Seahawks for multiple draft picks, including at least a first-round pick.
Harvin adds depth at wideout for quarterback Russell Wilson, and he'll start opposite to wide receiver Sydney Rice.
A fan has put together a highlight reel of Harvin's career with Minnesota on YouTube (music track may not be suitable for all audiences).
Harvin frequently voiced his opinions about his discontentment in Minnesota and with head coach Leslie Frazier, which many believe was the driving factor in the trade.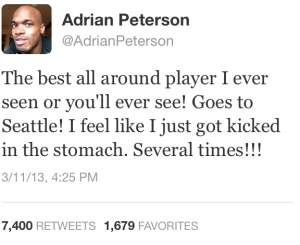 The trade is conditional upon Harvin signing a long-term contract extension with Seattle after next season.
And in case you forgot what he looked like at Florida: