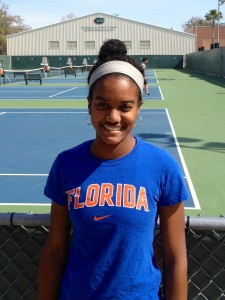 For Florida freshman Brianna Morgan, tennis has been a big part of her life. According to her, it's always just "felt right." Beginning at five years old, she has loved being on the tennis court and having the chance to learn new things every day. Now the Beverly Hills native is tearing it up in her first year at Florida and shows no signs of slowing in the future.
Morgan tried many sports when she was younger, but she's always loved tennis the most.
"I ran track mainly, did boxing, ballet and played basketball," said Morgan. "Tennis is the one I had the most invested into and I loved it."
Morgan credits her father with getting her involved with tennis at a young age and being her coach from the start. Now he's her biggest fan and still travels from California to watch her play for the Gators.
"He has been with me since I began, and even though he would hire a coach to coach me, he would still be at every single practice and always have input," Morgan said.
The toughest thing for the freshman to adapt to when in the collegiate ranks was the emphasis on fitness compared to training in high school. Before coming to Gainesville,  she would have a "regular" tennis practice as she calls it, but since coming to Florida, she has learned there is more to the game.
"Being consistent with every day, same time, same schedule as far as fitness, I didn't do as much as consistently in high school," Morgan said. "So coming here fitness was a big adjustment for me."
Morgan has made that adjustment, and it's translated into an 8-2 record in singles to start her freshman campaign; her only goal for the season is to help the team win its third consecutive national championship and establish a tennis dynasty.
Morgan's ultimate dream is to pursue tennis professionally following her time at Florida, and she also wants to play in pro circuits during the summers while she is here. She also hopes she can become a role model for younger players, much like Venus and Serena Williams were for her growing up. Outside of tennis, she has a passion for psychology, her major. One day she would like to have a private practice, but only after her tennis career is finished.