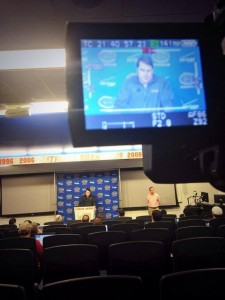 The Florida Gator football season may be over, but the revamping of the coaching staff is still well underway.
Florida head coach Will Muschamp addressed the media this afternoon for the first time in the offseason. A hot topic during the press conference was the hiring of Florida's new offensive coordinator, Kurt Roper. Muschamp spoke highly of Roper, praising his ability to adapt his offensive scheme to fit players and for the job he's done developing quarterbacks.
"After the season was over we obviously needed to make some improvements on the offensive side of the ball," Muschamp said. As I looked at it evaluation wise; we needed to be more tempo; we needed to create more snaps, we needed to create more space plays and to continue to stay balanced."
"The first two weeks of December we were on the road recruiting. We took about 12 to 15 teams; two to three games apiece and looked at people that I felt fit that mold and style, Muschamp said. "As I kept going through it, I formed about four or five candidates that I felt really genuinely had interest in the job and Kurt Roper's name kept coming up. …I think he will mix well with what we're trying to do here at the University of Florida and with the development of our guys."
Muschamp also discussed the hiring of offensive line coach Mike Summers and special teams coordinator/outside linebackers coach Coleman Hutzler.
"We were able to get Mike Summers on board; a guy who has had 30 years of experience and great success at Arkansas and Louisville and different places and this last year at USC, Muschamp said.  "He's done a fantastic job and is a fantastic teacher and some of our younger guys are going to some development and  to develop quickly."
"Coleman Hutzler was with our staff the first year and understands and knows our special teams system, and I think he will implement our special teams system very well." Muschamp said.
However, despite the college football season being over and things beginning to look a little brighter, the injury bug still remains. Muschamp announced that four players will miss the entirety of spring camp with lingering injuries from last season.  Running back Matt Jones suffered a radial meniscus tear and will not be back for spring. Matt Rolin, Jeremi Powell, and Alex Anzalone will be out as well. Andre Debose is improving, but unlikely for contract drills in spring, and redshirt freshman offensive lineman Octavious Jackson had surgery on a chronic shoulder injury and is questionable for spring practice.
Quarterback Jeff Driskel is on target to participate in spring practice, along with offensive tackle Tyler Moore who suffered a compound fracture of his elbow in a scooter accident.
Meanwhile, Muschamp  added that Loucheiz Purifoy, Ronald Powell, and Marcus Roberson will enter the NFL draft.
"All three of those guys in my opinion did things the right way on how they handled it and evaluated the situation, Muschamp said. "It's a personal decision and a family decision; whatever decision they've made I support 100% because they did it the right way."
For FULL audio on the quotes above, click here: 
Muschamp on the hiring of Kurt Roper
Muschamp on hiring Mike Summers and Coleman Hutzler
Muschamp on Gators entering the draft