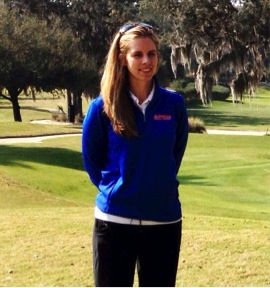 University of Florida's Head Women's Golf Coach,Emily Glaser has had a club in her hand since she could walk and she started playing competitive golf at age 11.
Glaser is from Upper Sandusky, Ohio, where her parents own a golf course that has been in the family since the 1930s. Glaser's father is a PGA professional and was her mentor when it came to her golf game.
"He has been all of the things that a golfer needs rolled into one, swing coach, mental coach, motivator. You know, I find myself even today in my coaching role, saying things that he would have said to me 10 to 20 years ago."
Glaser says the golfer she most admires is Jack Nicklaus. Not only because he is an Ohio native but because of his influence on the game.Glaser says her biggest accomplishments came in her amateur years of playing the game. Glaser played four years at Michigan State University and was the 2002 Big Ten Golf Athlete of the Year. Glaser's lowest career score is a 66, which she carded at the 2008 McDonald's LPGA Championship.
"I think his golfing mind was very, very good, which is what I'm probably the most impressed with. And just allowing him to win over different decades is pretty impressive," she said.
Glaser says that she would describe herself as a player's coach. Her experience comes more from the aspect of a player and competitor versus a teacher or swing instructor. Glaser says she talks to the girls a lot about how to pull through when things aren't going your way out on the course.
Glaser also says the team has a very young lineup this season and with that, comes a learning curve. The girls are learning to juggle school, nutrition and social life on top of golf. Glaser says golf is a very global game and every member of the team is from a different part of the globe. That being said, Glaser says the girls treat each other with respect and the team chemistry is up to par.
Florida Women's Golf Head Coach Emily Glaser is looking forward to a great post-season and is excited to see what the team can achieve.