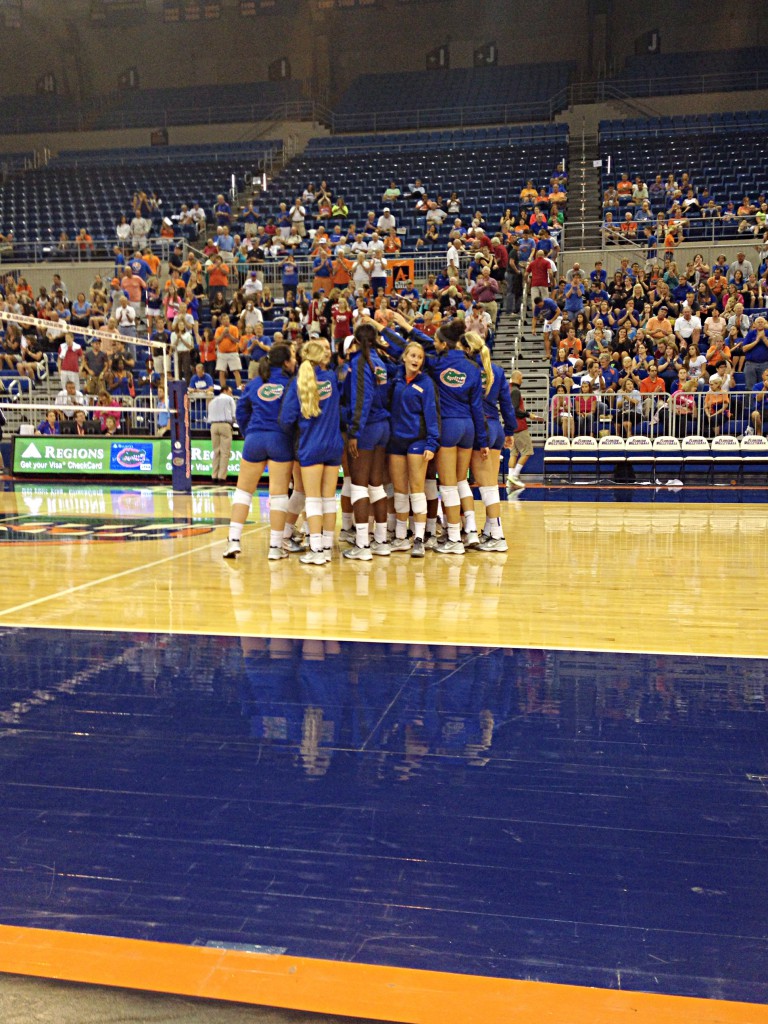 The 10th ranked Florida Gator volleyball team made quick work of both their opponents on the first day of the Active Ankle Challenge. Slated early against the Georgia Southern Eagles, the Gators struggled a bit early, but quickly righted the ship for a three-set victory (25-19, 25-11, 25-15). Their later matchup against the Idaho Vandals was also a three-set victory (26-24, 25-17, 25-13); with the first set going to 26-points for the Gators before the team gassed the pedal.
Freshman middle blocker Rhamat Alhassan made her Gator debut in dominating fashion, turning in a .750 hitting clip and four blocks as the Gators swept Georgia Southern to open the 2014 campaign at home in the Stephen C. O'Connell Center. Alhassan, had a team-best 8.5 points against the Eagles, was error-free and slammed down six kills on eight attacks. Fourteen Gators saw action in Florida's season and home opener, including three freshmen. Junior outside hitter Noami Santos-Lamb chipped in seven kills and a .545 hitting efficiency with 7.5 points, while freshman Carli Snyder registered a .333 clip in two sets of play.
But Alhassan's day was far from over. The freshman continued her strong play with a 13 kill performance against Idaho, to the tune of an .812 clip and an error-free night. Junior Simone Antwi also had a big night, adding 13 kills of her own and a .476 efficiency. And Junior Mackenzie Dagostino also had a big night, with 38 assists and nine digs.
Alhassan's impressive play might have surprised those in attendance, but it came as no surprise to her teammates.
"It's so exciting because Rhamat we see in the gym all the time," Antwi said. "And it's so cool that everyone else gets to see her; we all kind of lose our minds. I'm so excited for the rest of her career and this season."
But the attention quickly turns to the Oklahoma Sooners, a team the Gators will face Saturday afternoon. Gator coach Mary Wise, although happy with the team's performance in the two match ups, is focused on turning the team's attention to their upcoming Oklahoma tilt.
"We got a lot of work left to do offensively," Wise said. "And the challenge tomorrow [Saturday] will be against the very big, physical Oklahoma team that plays in a big conference; they're used to big crowds, big venues and they're very well coached. And they will be quite a different team. They're a terrific serving team and a great blocking team, and they can score a lot of points with both of those skills."
The Gators match against Oklahoma is scheduled to begin at 4 pm.
______________
For audio on the quotes above, and some more player comments, click here:
Wise talks about facing Oklahoma
Antwi talks about Rhamat Alhassan
Dagostino talks about the excitement of a new season
Alhassan talks about the influence Simone Antwi has had on her