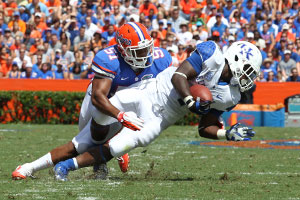 The last time Kentucky beat the Florida Gators in football was 28 years ago in 1986. This represents the longest active winning streak over a major opponent in an annual series. Even after last year's depressing season, the Gators STILL managed to get a win over Kentucky (24-7) in Lexington.
One person who is predicting the Gators long win streak ends this weekend is Kentucky running back JoJo Kemp.
"It's going to be fun walking out with a victory and rubbing it in their faces," he said.
As if the Gators needed any extra motivation after last year's nightmare season, now they have some.
Kemp's head coach, Mark Stoops, wasn't too pleased with his running back's comments.
"I was furious. The thing is – I was outraged; I talked to him about it –- but the thing is, he was trying to make light of some friends that he has on this program. But like I told him yesterday, You think they're gonna hear all that?"
Kentucky has had two full games to get ready for Florida, as opposed to the Gators only having one. They outscored their first two opponents, UT-Martin and Ohio, by a combined 79-17. The Cats are led by quarterback Patrick Towles, who is 37 for 60 with 547 yards and two touchdowns on the season.
Kentucky head coach Mark Stoops said Towles worked hard during the off season on his throwing mechanics.
"He really worked hard on his footwork and shortening up that release. I noticed it right away and he was really a quite different quarterback."
Florida head coach Will Muschamp has also taken notice of Towles' improvement.
"They settled on Patrick Towles, who is 6-foot-5, 240-pound quarterback that's a dual threat guy. He can run the quarterback power and the quarterback draw as a threat to pull it down in the passing game when we lose discipline in our pass rush. We've got to do a real nice job of that."
Another threat that Kentucky has in their offensive arsenal is their rushing attack.  The Wildcat backfield has accounted for seven of the nine touchdowns the team has scored this season.
"They're extremely talented at the running back position. Braylon Heard is a transfer from Nebraska, was hurt in the first game but he had two carries for two touchdowns and about 120 yards," Muschamp added. "Jojo Kemp from DeLand is a dynamic guy in the open field. Stanley Williams is a freshman from Georgia that's a good player. Mikel Horton is a kid from Cincinnati that's a good player. He's a true freshman as well."
Speaking of true freshman, Florida safety Duke Dawson, who is also a true freshman, made history in the opener against Eastern Michigan by returning an interception for a touchdown. He became the first true freshman in school history to return an interception for a touchdown in his first collegiate game.
Florida cornerback Vernon Hargreaves III was happy for the young guy.
"I was excited for him. He kind of out-did me. My first game I had a pick, he had a pick six, so I kind of give him a little stuff for that. He made a great play I'm excited for him. It's a long season, I told him 'don't live off one game' and he understands that. Now we're on to this week."
This week the Gators were once again plagued by the injury bug. Along with tight end Jake McGee being out for the season, true freshman cornerback J.C. Jackson will also be out for the remainder of the season. Jackson will undergo shoulder surgery next week to repair a torn labrum that limited him in contact drills during fall camp. Jackson injured his shoulder during Florida's season opening win over the Eagles and as a result will redshirt.
Defensive coordinator D.J. Durkin talked about who will replace J.C. Jackson.
"We're down one guy. We were rotating all of those freshmen that we brought in and played in that game and they're going to continue to play for us. They're in the rotation and they will play in the foreseeable future for games."
Another replacement on offense for the Gators will be fifth-year senior Chaz Green, who will take over at left tackle for the injured D.J. Humphries. As a result of Green moving from right tackle to left tackle, redshirt freshman Roderick Johnson will be the new starter at right tackle.
"I mean it's unfortunate that we lost one of our starters." Green added.  "But I'm also glad that I have the experience and can go over there and play that side that way we don't have to put a young player that doesn't have the experience that I have. It's a positive too that we have the depth."
On the offensive side of the ball, Florida will look to continue its success as it cranked out 86 plays for 655 yards of total offense in the Eastern Michigan game. But offensive coordinator Kurt Roper wants the tempo to be even quicker against Kentucky.
"I think it gets down to our guys understanding giving the ball back to the official, getting lined up in a hurry. Too many times we left the ball on the ground, at the end of a play, where the official has to go get it to spot it. I think we can play faster just looking at those numbers, but again, it's all about making plays."
Gator quarterback Jeff Driskel will be one of the main players responsible for controlling the speed of Roper's up tempo offense and he also knows the importance of starting out SEC play with a win.
"We're really excited to get into the meat of our schedule. Obviously, Kentucky is in the [SEC] East and that's a big game for us. We want to win every East game, just like every other game. It's one we need in order to have a good year we're going to have to win this game, so we're going to do everything in our power to do so."
Redshirt senior linebacker Michael Taylor couldn't agree more with Driskel.
"We need every victory on this schedule. If we are going to accomplish the goals we want to achieve this year, we need every win, we need every player, every coach. If we're going to achieve what we want to achieve, we need every win."
The Orange and Blue will get their chance to get their first SEC victory of the season tonight, on top of trying to make it 28 straight wins against Kentucky.
Kickoff is scheduled for 7:30, but coverage of Gator football begins on ESPN 850 WRUF beginning at 3:00.
For audio of the above quotes, click below:
Muschamp on Kentucky's running backs
Hargreaves on how excited he was for Duke Dawson
Durkin on replacing J.C. Jackson
Green on switching from right to left tackle
Roper on how offense can play faster
Driskel on importance of winning SEC games
Michael Taylor on winning every game