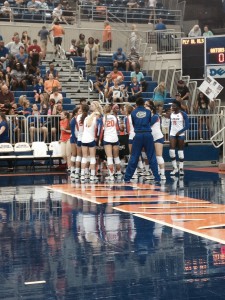 Florida sophomore right side Alex Holston registered a match high 20 kills and junior setter Mackenzie Dagostino dished out a career high 58 assists as the seventh ranked Gators defeated Sunshine State opponent UCF 3-1 (28-30, 25-16, 25-21, 25-17) to wrap up a challenging non-conference slate Sunday for the Orange and Blue.
Florida turned in its second-best hitting efficiency of the season (.350).
Four Gators turned in double-digit kill performances Sunday in the win against the Knights (7-5), paced by Holston's 20, while senior libero Holly Pole scooped up a career-tying 20 digs to help stabilize UF's passing efforts. Freshman middle blocker Rhamat Alhassan hit .600 with 14 kills, two shy of her career-high 16, while sophomore middle Shaïnah Joseph had a career performance for the second match in a row with 12 kills and a team-high seven blocks. Freshman outside hitter Carli Snyder chipped in 11 kills towards UF's attack.
After UCF gutted out a gritty 30-28 first-set victory, it was all Gators from there. Under Dagostino's serve in the second frame, the Gators enjoyed a nine-point margin at UF's first set point, while the Tampa product rattled off four straight points in the third to give UF a lead it wouldn't relinquish at 18-17. Florida never trailed in the second and final set.
Gators head coach Mary Wise was quick to note postgame that the Knights were much tougher than they seemed on paper.
"This win might not receive as much attention as either of the ones last weekend," Wise said. "But our players and our staff know what a huge win this is against a very well-coached UCF team that has played a great pre-conference schedule. Everything about that team makes me think that there's a good chance, if we can continue progressing, that we could see them in December."
The Gators now enter SEC play as they travel to Alabama to face the Auburn Tigers Friday night. Florida then returns home to host the Mississippi Rebels on Sunday afternoon. You can catch both matches on ESPN 850 WRUF.
For postgame comments from coach Wise, Mackenzie Dagostino, and Holly Pole, click here:
Wise gives an overview of the UCF matchup
Wise talks about bouncing back from a tough first set
Wise talks about the influence of Mackenzie Dagostino and Holly Pole
Dagostino on bouncing back from a rough first set against UCF