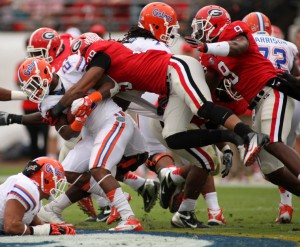 "They still run the same offense, their scheme really doesn't change that much with him [Gurley] being out," Florida defense coordinator D.J. Durkin said. "Obviously, we've had the benefit of seeing some games now without him. They've got some really good running backs, besides him, obviously he's a great player. They have some other really talented running backs that can do the same things he does. They run their offense the same way."
Georgia will still rely heavily on the running game even without Gurley, as they pound the rock with freshman running back Nick Chubb, who has 569 rushing yards on the year with a 5.7 average yards per carry. Florida sophomore linebacker Jarrad Davis thinks Chubb is similar to Gurley.
"The running back they have right now playing, Nick Chubb, he's almost the same. He's just maybe a little bit shorter, that's it. He's a great back too. He puts up a lot of yards and he runs physical just like Todd Gurley. We take the same approach this week as we would if Todd Gurley was playing."
Despite Georgia's power running game, Florida head coach Will Muschamp says where the Bulldogs really stand out is on defense.
"You look at Georgia, the one thing that jumps out at you is the turnover margin. They're plus 13, they've only had four turnovers on the entire season. That's the reason why they are where they are."
The Bulldogs plus 13 turnover margin may get wider with the way the Gators have turned the ball over lately — 15 times in the last four games. Muschamp preached to his team during the bye and this week how crucial ball security is.
"We have a ball security period every single day that we've been doing for two years now. We changed up some things we were doing as far as that was concerned. Just continuing to emphasize taking care of the football. You can't turn it over six times and win. That's not going to happen."
Those six turnovers Muschamp was referring to came in the Missouri game two weeks ago where both quarterbacks, Jeff Driskel and Treon Harris, were responsible for all six of the turnovers. Driskel had two fumbles and two interceptions, while Harris had an interception and a fumble. Despite Harris' turnovers, Muschamp elected to give him his first career start for the Georgia game.
"Treon will be getting his first start," Muschamp said. "Excited for him and what he's going to be able to do. A guy that has a knack for making plays. He's got a calm, cool, collective air about himself and how he carries himself, and I think he'll play well."
Florida has struggled big time on offense, ranking 11th in the SEC, but Georgia head coach Mark Richt told his team not to sleep on the Gators.
"Our guys understand that we're playing a very good team this weekend. It is historically a very highly contested game, every time we hook up with Florida. We better focus on the right things or it's going to be a rough day."
Despite the Bulldog's current three-game winning streak in the matchup, the games have been close: 23-20 in 2013, 17-9 in 2012 and 24-20 in 2011.
The Gators are desperate for a win and if there was one game that could potentially save Muschamp's job — it's this one. Muschamp, a former Georgia defensive back, has never won in this series. He never beat Florida as player and as a coach at UF, he hasn't beaten Georgia.
Florida's players want to win, not just for Muschamp, but for the university.
"I think it's bigger than just playing for the coaches," redshirt senior linebacker Neiron Ball emphasized. "I think it's just playing for the program. Our program is better than what we've been showing. We just gotta go out there and show it."
Kickoff for Saturday's SEC showdown between the Gators (3-3, 2-3 SEC), and the Bulldogs (6-1, 4-1 SEC) is set for 3:30 p.m. from EverBank Field, with pregame coverage beginning at 12:30 on ESPN 850 WRUF.
For audio of the above quotes, click below:
Durkin on Georgia's offense without Gurley
Muschamp on Georgia's turnover margin
Richt on the Gators being a good team
Ball on playing for the program