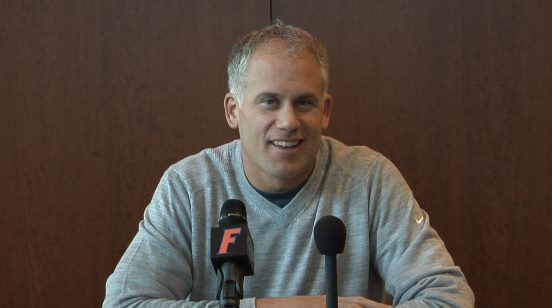 The Florida Gator football team is gearing up to welcome Steve Spurrier and the South Carolina Gamecocks to the Swamp this Saturday for its last SEC matchup of the season. The Gamecocks may be struggling when it comes to winning football games, but the team is still ranked fifth in the league in total offense and second in passing offense. Florida defensive coordinator D.J. Durkin discussed the defense's preparations and overall status heading into this weekend's contest.
Durkin elaborated on the challenges in facing South Carolina's talented offense.
"I mean, they're very balanced in what they do," he emphasized. "They run the ball extremely well and they throw it extremely well too, so I think anytime you're facing a team that's balanced, you know, it's hard to make them one dimensional; you always want to do that when you're facing an offense, and they make that hard to do. I think they're very good at what they do, they have built in answers, it's a system they've run there for a while, and so they make adjustments very well throughout the game."
Gamecocks senior starting quarterback Dylan Thomas has thrown for 2,588 yards and 22 touchdowns so far this year.  Durkin says his level of experience is extremely noticeable.
"He's been a starter for a long time. He's an experienced guy and has been in that offense for a long time, and you can tell. I mean, they're doing everything with him and he can make all the throws. He's a very talented passer."
Durkin added that he can also see why the Gamecocks are ranked second in the SEC in passing offense.
"They're talented outside; they've got guys that can really stretch the field and they like to stretch the field in their offense. I mean, they take shots a bunch down the field. Thompson can make all the throws, so this weekend is a big test for us for sure."
Meanwhile, with the loss of defensive tackle Leon Orr, Durkin elaborated on the adjustments that are being made up front.
"I think we have a healthy group of guys up front that we've been rolling whether we're all healthy or there or not. I just think now some of those guys have to play more snaps then what they would have previously; but they're fine with that. I think our front has played well and responded to that challenge week in and week out throughout the season."
The Gators will need to get the W Saturday afternoon to even have a shot at the SEC East title. And even with a win, Florida will still need Missouri to lose to Tennessee and Arkansas or Texas A &M. The squad will also need Auburn to defeat Georgia this weekend as well.  
Kick off for Saturday's game is slated for noon, with pregame coverage beginning at 8 a.m. on ESPN 850 WRUF.
For audio on the above quotes, please click below:
Durkin on South Carolina's offense
Durkin on South Carolina's passing game