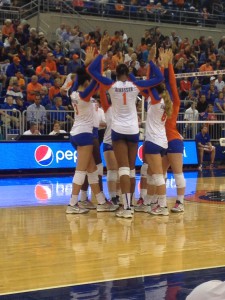 The seventh ranked Florida volleyball team pumped out a season-best .522 hitting efficiency as a balanced team effort helped the Gators to a sweep of Auburn (25-14, 25-21, 25-10) in the Stephen C. O'Connell Center in mid-week action.
The Gators chalked up their 15th straight victory against the Tigers (11-15, 3-10 SEC), improving to 20-3 overall and an undefeated 14-0 in SEC play behind a team-high 11 kills and 13 points from sophomore right side Alex Holston, while freshman middle Rhamat Alhassan hit .636 with nine kills and two blocks for 10 points towards the Gators' tally.
Florida had contributions and highlights all around Wednesday, as junior outside hitter Živa Recek registered a career-best .643 hitting efficiency with nine kills on 14 errorless swings, while senior Holly Pole held things down in the back row with 13 digs to help stabilize on first contact and then set up the Gator attack.
Freshman Sam Dubiel served up her first career ace for match point for the Orange and Blue.
Florida head coach Mary Wise credited the play of her setters as a key to success in the match.
"The offensive numbers are a direct reflection of the first contact by our passers," Wise said. "The ball distribution by Mackenzie and then our hitters making good choices. We were very low error tonight from an offensive standpoint and the numbers reflect that."
UF limited AU to a .133 clip and had just six attack errors, its lowest in SEC play so far, to aid its efforts in UF's 12th SEC sweep.
Florida now hits the road for a trip to 15th ranked Kentucky Sunday in Lexington as the SEC season winds down with just four more conference matches left.
UF is 48-10 all-time against Kentucky, including 46-3 under coach Wise. The Gators are additionally 20-5 all-time in Lexington.
The Gators and Wildcats will match up at noon. Catch the match on ESPN 850 WRUF.
For postgame comments from Coach Wise, Ziva Recek, and Alex Holston, click below:
Wise recaps the match against Auburn
Wise on the impact of Alex Holston
Wise on the upcoming Kentucky match
Recek on the issues Auburn had early in the match
Recek on the depth of the squad and the benefits from that