The Florida volleyball team faced Florida State on Sunday and it was a tough match up until the finish but in the end, Florida moves to 8-1 on the season by beating FSU in four games.
In fact, the Seminoles took a close first game win 25-22 but the Gators won three straight games to put away FSU.
More: See a gallery from the game
Florida's middle back Simone Antwi lead the Gators with 14 kills overall. After losing the first set Antwi says the team learned from it.
"We didn't want to sit there and dwell on it. We knew that we could play better than we did," she said. Antwi also had a .542 hitting percentage and five blocks.
Starting the second set the Gators really came out tough to get the win 25-18. The third game went to Florida as well in a hard fought 25-21 win.
The final game of the night seemed to be the longest as FSU was fighting hard to stay alive. However, on match point for the Gators the Seminoles passed up the opportunity to strike back when they thought a dig from Florida's libero, Nikki O'Rourke, was going out of bounds. With that dig staying in the Gators defeated the Seminoles 25-20 to take the match.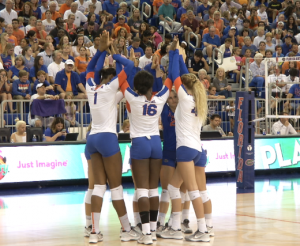 Florida head coach Mary Wise was very satisfied with her team's performance.
"To go toe to toe against Florida State and be able to pull off a win is a real testament to the team's character," she said.
Coming up next for the Gators they will take on Ole Miss for their first SEC match up of the season. Wise says now everyone gets to start off 0-0 and the good news is the Gators will be at home.
"It's not an automatic. We are playing teams with two of the best middles in the league and we'll have our work cut out for us," she said.
The Gators face Ole Miss at home Friday at 7pm.
To hear audio from the story listen here:
Antwi talks about bouncing back
Wise talks about upcoming season