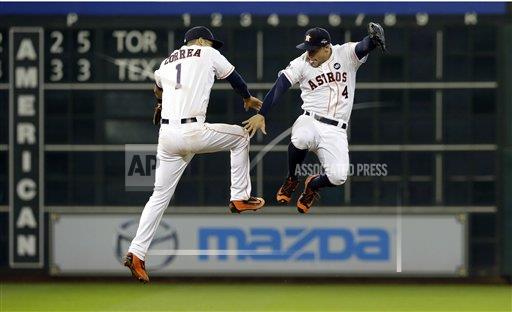 With two games in the ALDS, it's bound to be a packed afternoon for baseball fans on Monday.
It will all begin with the Houston Astros hosting the Kansas City Royals at Minute Maid Park. The Astros made the postseason with a young team that bounced back from averaging 104 losses in the last four seasons. The Royals made it to Game 7 of the World Series last season and cruised to the AL Central title.
The Royals are starting their Game 1 pitcher, Yordano Ventura, on three days rest while Houston will counter with former Gator signee Lance McCullers.  The Astros lead the series 2-1.
The Texas Rangers take on the Toronto Blue Jays in the second game today.  The Blue Jays were known for a strong offense in the regular season, but it appears they didn't bring their A offensive game until Game 3 when they faced elimination.
R.A. Dickey, sporting an ERA of 3.91, and his knuckleball are also making a postseason debut for the Blue Jays in Arlington where his career began in 2001.  The Rangers are starting postseason veteran Derek Holland, with an ERA of 4.91.
Toronto's big-time hitters, third basemen Josh Donaldson and first basemen Edwin Encarnacion have a combined four homers off of Holland. Donaldson is batting 6 for 20, and Encarnacion is batting 5 of 15 against Holland.  Encarnacion is, however, struggling in the series as he is just 2 of 11.
Texas leads the series 2-1.