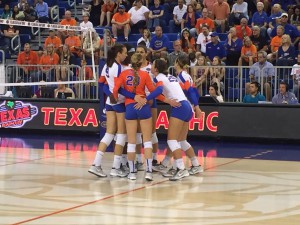 The Florida volleyball team returns home after two road games to take on the Arkansas Razorbacks this Friday. The Gators are coming off an SEC win against Kentucky, defeating the Wildcats three sets to one. Florida now holds a record of 13-4 overall and 5-3 in SEC play going into Friday night's game.
The Gators and the Razorbacks have already met one time this season. That match up proved to be a tough one as it went to a full five sets with Arkansas managing to grab the win. The Razorbacks are currently 13-4 overall and 3-2 in conference play.
Florida head coach Mary Wise says the schedule is extremely tough.
"This is where the SEC is. You've got to have your A-game every single day… we're feeling it but the best thing I think is how much our team has improved."
For Friday's game, the Gators know exactly what to expect. Wise says Arkansas has some explosive players on their team.
"Arkansas features one of the premiere, both middle and left sides, in the league… they can run points very effective behind the setter," she said.
With the first match up being at Arkansas, the Gators look to gain some momentum playing in the O'Dome in front of their own home crowd this time around. First serve on Friday begins at 7:00 PM. Live coverage of the game can be heard on ESPN Gainesville 95.3 FM beginning at 6:50 PM.
To hear audio from the story, listen here:
Wise talks about tough schedule
Wise talks about Arkansas' team