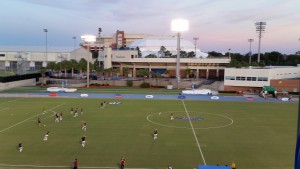 Junior Liz Slattery led the Florida soccer team to an unbelievable win Thursday night when she chipped in a shot with no time remaining to lift Florida over South Carolina 2-1 in double overtime.
Things were evened up after the first half with both teams getting a goal from their leading goal scorers. South Carolina struck first early in this one finding the net in the sixth minute. Florida goalkeeper Kaylan Marckese came out aggressively for the ball, but was unable to come down with it, leading to an easy goal for South Carolina's Savannah McCaskill. This was McCaskill's 10th goal of the season, which makes her tied for fourth in the SEC.
Florida tied things up in the 21st minute when Christen Westphal sent the ball to Savannah Jordan who tapped it in from seven yards out. This was Jordan's 15th goal of the season and Westphal's ninth assist of the season. Both Jordan and Westphal lead the SEC in goals scored and assists respectively.
The second half saw no scoring despite pressure from both teams.  South Carolina would go into overtime leading the shots on goal with 11 compared to Florida's 10.
The first overtime saw plenty of action but no goals scored. The second half was looking to shape up the same way until the last 10 seconds. The Gators got the ball into the box and Meggie Doughtery Howard tried to put a touch on it but the ball escaped her. Slattery got to the ball, took a couple touches and then sent the ball in right before time expired.
"Honestly, it was weird. I felt really calm, and I felt like everything just kind of slowed down. The goal itself was really slow, and everything just kind of slowed down as I touched it, and it just went right over her head," said Slattery.
This win puts the Gators atop the SEC standings alone with a 12-3-1 record (6-2-1 SEC). Florida will take on Arkansas at home this Sunday before finishing up the season next Thursday against Georgia.
To hear sound from Slattery click below: