The Gators volleyball team stays hot in the SEC with a sweep of Arkansas at home on Friday.
Florida lost to Arkansas earlier in the season on the road but managed to take them down 25-10, 25-16, and 25-16 on Friday at home.  Florida setter Mackenzie Dagostino says the team was determined to show the Razorbacks what the Gators are all about.
"We definitely played with a chip on our shoulder.  We knew that going in to their home facility last time and losing to them, they wanted to come in here and do it to us on our home court.  So, we just made sure that when they got here we were going to remind them this is Gator Country, this is our court, this is our home and we're not going to let you do that to us again and I think we did just that."
Dagostino was able to put up 32 assists on the night along with five kills.  Many of her assists found Florida's middle blocker Rhamat Alhassan during the match.  Alhassan says the Gators practiced on everything from fundamentals to tricks that Arkansas used in match earlier in the season to defeat the Razorbacks.
"Picking up small balls, working on picking up their shots, tips and roll shots, serving.  Honestly, it's every part of our game.  Blocking.  Hitting.  We work on every aspect of it."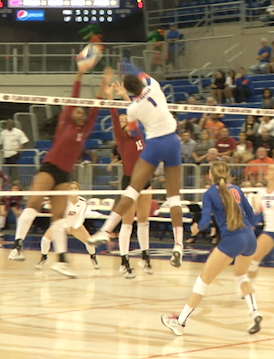 Alhassan hit .684 on the night with the match-high of 16 kills.  Florida head coach Mary Wise says not only did the defense play elite, but in every aspect of their game.
"To hold Arkansas so far below their average.  Balls that went for kills three weeks ago did not [tonight].  Our transition game was really, really good.  Our connection between our setters and hitters.  Some of the plays between Mackenzie and Rhamat were pretty elite."
The Gators defense was able to keep the Razorbacks' hitting efficiency very low in all three sets; .000, .032, and .067.
Florida will pick right back up on Sunday as they host Missouri in the O'Dome.  First serve is set for 1:30 PM and live coverage begins at 1:20 PM on ESPN Gainesville 95.3 FM.