The Florida Gators (No. 10 CF, No. 11 AP) clinch the SEC East title with a 9-7 win over the Vanderbilt Commodores on Saturday in Gainesville.
But the win was as unimpressive as they come by Florida's standards. The Gators' Homecoming festivities were nearly derailed by Vandy thanks to a combination of an abysmal offensive performance, uncharacteristic penalties, and an inspired Vanderbilt defense.
The Gators got off to a hot start when Brandon Powell weaved his way through Vandy's kick coverage team, bringing the opening kick off back 71 yards. True freshman running back Jordan Scarlett found a hole and sprang free for a 20 yard gain. Two plays later, Powell nearly put a bow on his opening performance, when he hauled in what would have been a five yard touchdown from quarterback Treon Harris, but it was eventually over turned by review.
The Commodore defense forced a fourth down situation, and true to his M.O., Jim McElwain opted to go for it rather than trying for a field goal. A handoff to Brandon Powell resulted in a two yard gain, but no first down, and more importantly, no points for the Gators. And that was only the beginning of the offensive woes for the Orange and Blue.
The Commodores took over on offense, and mustered a net 14 yards before punting. On the ensuing Gator drive, running back Kelvin Taylor capped a six play, 41 yard drive with a three yard touchdown run. Florida's walk-on kicker Neil MacInnes missed the PAT, and the Gator offense would never cross the plane again against Vanderbilt's defense. A defense McElwain said would pose a threat to his budding offense.
Vanderbilt's defense would force four turnovers on the day, but one turnover proved more costly for the Gators than the other three. With just 59 seconds to go before halftime, Harris lofted a pass to the sideline and Vandy safety Ryan White came down with the interception. Vanderbilt took over on the 26 yard line, and Vandy running back Ralph Webb ran by all 11 Gator defenders to give the Commodores the go-ahead score just before halftime. McElwain was impressed by Webb, who celebrated a homecoming of his own. The Gainesville native posted 118 yards on 22 carries on the day.
Florida's 9-7 win over Vanderbilt is the first time the Gators have scored in single digits and won since 1968 (9-3 at Florida St).

— ESPN Stats & Info (@ESPNStatsInfo) November 7, 2015
In the third quarter, Florida's offense crumbled under the pressure of Vandy's defensive front. The Gators totaled -23 yards of offense, and zero first downs. But the Gator defense did its thing too, holding the Commodores to 31 yards of offense and zero points.
At the start of the fourth quarter, Florida's offense seemed to gather itself. The Gators had shaved about three and a half minutes off the clock, and driven 57 yards, when wide receiver Demarcus Robinson (9 receptions, 106 yards) fumbled and Zach Cunningham recovered for Vandy.
Yet again, a stingy Florida defense was there to bail out a struggling offense, but this time got it got help from Vanderbilt's special teams. Commodore punter Tommy Openshaw shanked a punt that traveled just 12 yards, giving the Gators a short field to work with late in the game.
Florida's offense took to the field intent on scoring points, and preserving the Gators' title hopes. After 20 yards gained in five plays it came down to a fourth and one situation.  With the game hanging in the balance, embattled kicker Austin Hardin put a 43 yard kick between the uprights to seal the victory for the Gators. Going into Saturday's game Hardin's only attempt of more than 40 yards came against the Bulldogs when he missed a field goal from 45 yards out. McElwain had faith in Hardin, though he had not made a field goal since September 12th. But Hardin delivered with the weight of the Orange and Blue faithful on his shoulders.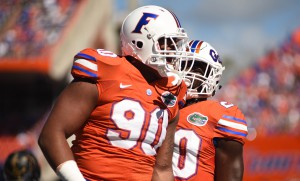 See the full photo gallery by Greenberry Taylor, WUFT News.
Florida, now 8-1 on the year, now travels to play South Carolina next Saturday at noon.