Carolina still reigns in the NFL as the undefeated giants with a 13-0 record.  Sunday, the Panthers faced the Atlanta Falcons, which ended in a lopsided score (38-0).  During the game, Carolina quarterback Cam Newton experienced more injury having left the game in the fourth quarter due to numbness in his hand.  Newton says he never experienced this sort of pain in his hand, but was thankful backup Derek Anderson could step in.  Newton has had the spotlight on him injury wise because of his suspected concussion during the Panthers/Saints match up and now pain with his hand.  He says injuries are a risk for every player who takes the field and not just himself.
Carolina dominated the running game against the Falcons, rushing 142 total yards compared to Atlanta's 54 yards.  Panther's head coach Ron Rivera says a good running game enables the them to affect the opposing defense's strategies.  Rivera was able to sub-in a lot of players on his roster to give the starters a break, including running back Jonathan Stewart who was only in for 19 snaps and Newton who was absent the entire fourth quarter.  Stewart says the entire team expected to come out and play well against the Falcons.  Stewart was able to tally up 75 yards and grab a touchdown before he gave others players a chance to enter the game.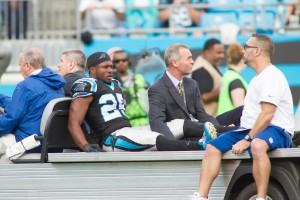 Undoubtedly the team is well aware that they are the top dog in the league, so far.  Newton says not only are the players gaining confidence, but the coaching staff as well.  However, this leads to the question as to whether Rivera will aim for a 16-0 record and leave his starters in the game unlike what he did against the Falcons.  Carolina starting cornerback Bene' Benwikere sustained a fractured leg during the fourth quarter of the game Sunday that will leave him out of the rest of the season.
Up next for the Panthers is Odell Beckham Jr. and the New York Giants.  Stewart says every week is a challege despite who the opponent is and what their record may be.  The Giants are currently 5-7 after a 20-23 loss to their New York foes, the Jets.  First stop for the Giants will be tonight's Monday Night Football against the Miami Dolphins (5-7) before they face the Panthers this Sunday.