Cincinnati Bengals (10-3) quarterback Andy Dalton suffered a thumb injury on his throwing hand during the first quarter of this past Sunday's game against the Pittsburgh Steelers (8-5).
The Steelers defeated the Bengals 33-20.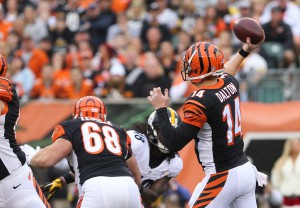 The injury took place on the final play of the Bengals opening drive. The play concluded with Dalton throwing an interception to Steelers defensive end Stephon Tuitt. Dalton immediately went to tackle Tuitt and cameras show his right hand hitting Tuitt's knee on the tackle.
Dalton tried to enter back in the game but when he couldn't grip onto the ball in the sidelines he knew he was done. Dalton was replaced by back up quarterback AJ McCarron.
The injury to his right hand could potentially put him out for the rest of the season. However, there is still hope that he could play in the playoffs. If the injury is a straight break the realistic recovery time is 6 weeks but a straight break could possibly heal in 4 weeks.
Dalton says it's unfortunate the injury happened now but he's going to do everything he can to come back as soon as possible.
Tests today revealed that Dalton will not need surgery. The best case scenario for the Bengals is the injury will be healed in four weeks and Dalton will return to play just in time for the start of the playoffs.