With the go-ahead from 30 of the 32 NFL owners Tuesday night, the St. Louis Rams franchise will move to Inglewood, California; a city that has been absent from the league for over 20 years.  The Rams left Los Angeles after the 1994 season, but now will return leaving St. Louis without an NFL team in two decades.  Rams owner Stan Kroenke says the plan has been long-anticipated by the franchise, and though it may be a difficult process, it will have a positive outcome.
Welcome Home! #LARams2016

— Eric Dickerson (@EricDickerson) January 13, 2016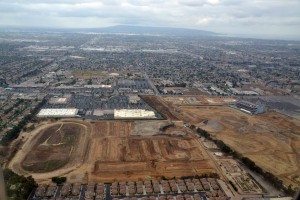 Kroenke has a $1.9 billion plan to create the stadium where the old Hollywood Park racetrack once stood.  Kroenke says this move is beneficial for not only the team, but for the economy.  With the plans sketched out, it is predicted that the stadium will be the biggest in the NFL; trumping the AT&T Stadium of the Dallas Cowboys (almost 300-acre complex).  The stadium will not be ready until the 2019 season; however, the costs could possibly reach $3 billion.
NFL Commissioner Roger Goodell says the entire league's ownership is excited about the Rams' move.  The San Diego Chargers is the first candidate to join the Rams in L.A. over Oakland after the Raiders withdrew their relocation application; however, if neither team decides to move they will receive $100 million for stadium funds.
The NFL will finally have a team present in the nationa's second-largest media market.  Goodell says the plans placed for the new stadium show that there will be success in L.A.