Tuesday night's battle between two of the SEC's top seven teams will mark an important stage in the little past halfway point of the 2015-2016 season. For the Florida Gators (13-6), it's a chance to come away with their second in-conference road victory, an important attribute the committee notes when putting together the NCAA Tournament. For Vanderbilt (11-8), it could be a momentum swinger, with the Commodores having won only three of their first seven SEC contests.
While the matchup marks a different point in the season for each of the two teams, both squads feature a similarly stout defensive presence. The Gators and the Commodores both allow an average of less than 66.1 points per game, putting them at first and second respectively in the SEC in team defense.
Vanderbilt shoots the ball from beyond the arc at a stellar rate, making 40.5 percent of their three-pointers, good enough for 14th in the NCAA. The Commodores downtown ambush is led by sophomore guard Wade Baldwin IV, averaging 14.5 points per game, and knocking down 45.5 percent of his looks from three-point range. Two of Vandy's top-three scorers shoot above 45 percent from three, including Baldwin and fellow sophomore Jeff Roberson (48.6 percent).
The Gators have struggled on the road in the SEC this season, going 1-2 so far, playing perfectly into the Commodores' home court narrative. Vanderbilt is 3-0 in home SEC games this year, with Florida guard Chris Chiozza describing Memorial Gym as potentially, "the toughest place to play in the league. It's dark, like playing in a theatre."
With the Commodores roster featuring three different players of seven feet or taller, Coach Mike White knows that he can't let the height deter the Gators offense.
"Despite Vanderbilt being bigger and stronger, we still want paint touches of course. We'll take what the defense gives us, and it might be a little bit more difficult against a bigger team. We may have to rely more upon driving the basketball, making shots from the perimeter and making shots from the foul line."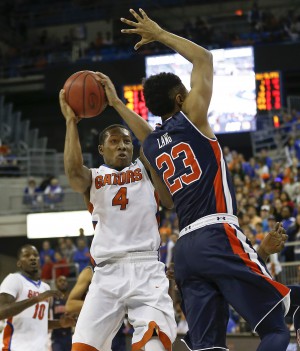 Florida has won their last three games, including most recently a 95-63 blowout of the Auburn Tigers. In those contests, the Gators have outrebounded their opponents by a margin of 128-93 and allowed an impressive average of only 70.6 points per game. Coach White talked about his team working hard on the gritty aspects of the game, saying his team really started stepping their game up,
"When your focus is on those hard things and not necessarily the things you want to hear, I think it took some negative experience and some losses for the buy-in [factor] to increase."
Dorian Finney-Smith has been phenomenal for the Gators as of late, and will help lead the way for Florida on Tuesday night. Finney-Smith has averaged 20.3 points and 10.7 rebounds per game in the Gators' last three contests and was named last week's SEC player of the week. Along with Finney-Smith, KeVaughn Allen has also been a vital part of the offense. Allen is averaging 19 points per game over Florida's last three games, and was named to the Wayman Tisdale midseason watch list. The award is given to the NCAA's best freshman player in the country.
INJURY UPDATE: Center Schuyler Rimmer has been taken off the injury list, and played three minutes in the Gators' most recent game vs. Auburn, scoring two points. Forward Alex Murphy is still out indefinitely with an irritated plantar fascia in his right foot.
BROADCAST INFORMATION: Tuesday night's game tips off at 9:00 p.m. ET and can be seen on ESPNU with Rich Hollenberg on play-by-play and Dino Gaudio serving as the crew's analyst. The game can be heard live on ESPN Gainesville 95.3 FM with Mick Hubert and Mark Wise as always on the call.