The Kentucky Wildcat (16-6) men's basketball team has lost two straight games and don't look at all similar to the team that beat the Gators three times last season, and that advanced all the way to the Elite Eight. Coach John Calipari has tried to change up his look, only starting two freshmen in his lineup, as Cal's usual "diaper dandy" approach has been hampered by poor play from his young squad.
The Florida Gators (15-7) will take on the Wildcats in Rupp Arena on Saturday afternoon, and try to steal one from a slumping team certainly not devoid of talent. It hasn't been all bad for Kentucky this season, as the team has still picked up quality wins against Louisville and Duke early in the season. And while the Wildcats have lost two straight, one of those defeats came against #4 Kansas, a team many people expect to see in Houston come March.
SEC 1st year coaches win totals:
Mike White: 15 (6 SEC)
Avery Johnson: 12 (3)
Rick Barnes: 11 (4)
Ben Howland: 9 (2)

— Gator M-Basketball (@GatorsMBK) February 4, 2016
Jamal Murry and Tyler Ulis headline Kentucky's backcourt, with the freshman-sophomore combo averaging a combined 33.7 points per game. Murray was the ninth-ranked player in the 2015 ESPN300, coming to Lexington via Ontario. Murray leads the team in individual scoring, averaging 17.5 points and 4.9 rebounds per game, but struggled in the team's last contest, scoring 21 points on an abysmal 3 of 12 from beyond the arc, and 7 of 20 from the floor. The freshman guard's struggles from downtown last game were a bit of an anomaly, as Murray ranks first in three-point percentage among Wildcats playing 18 minutes or more.
Tyler Ulis runs Calipari's offense, starting at the point guard position. Ulis has done a great job moving the ball this season, averaging 6.1 assists per game, good enough for second in the conference. The sophomore also averages 16.2 points per game, playing a team-leading 36.4 minutes per game. Despite Kentucky's recent struggles, in the team's last five games, Ulis has averaged 22.2 points, 6.2 assists and shot the ball at an efficient 52.3%.
Alex Poythress is one of the Wildcats' most athletic players, dominating the boards, and averaging a team leading 6.6 rebounds per game, adding 10 points per game as well. Kentucky's leading rebounder is also the team's only senior, and one of only five players left from the Wildcats' 2013-2014 team that lost to Connecticut in the NCAA Tournament finals. Poythress' efficient post play puts him at a 59.7 field-goal percentage, the highest of any player outside of fellow junior Derek Willis.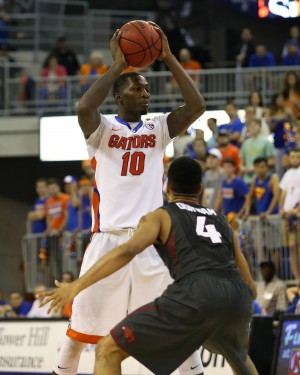 Florida and Kentucky have trended in opposite directions as of late, with the Gators having won their past two contests, including an 88-71 victory over the #9 West Virginia Mountaineers, and most recently, an 87-83 barnburner vs. the Arkansas Razorbacks. Florida's stellar free throw shooting was the story of last game, as the Gators sunk 30 of 36 free throws en route to victory. While UF was successful at the charity stripe, their old habits from beyond the arc returned, as Florida went a poor 5 of 19 from downtown, contributing once again to the reason they rank 251st in the NCAA in three-point percentage.
If Florida wants to win on Saturday, its stout defense and above-average rebounding must make another appearance. The Gators are only allowing 65.8 points per game, good for 50th in the nation. Florida is also grabbing 41.1 total rebounds and 13.6 offensive rebounds per game. The Gators rank top-25 in both of those categories.
Dorian Finney-Smith has looked like a potential first round pick this season, averaging a team-leading 15.1 points and 8.2 rebounds per game. Finney-Smith posted 22 points and nine rebounds in Florida's win over Arkansas, going 8 of 12 from the floor. Chris Chiozza has also been a great floor general for Florida, totaling 30 assists in his past five games.
INJURY INFORMATION: Forwards Justin Leon (concussion) and Kevarrius Hayes (arm) are both questionable for Saturday's game vs. Kentucky. Forward Alex Murphy is still out with plantar fasciitis in his right foot. Murphy hasn't played since December 19 vs. Oklahoma State in the Orange Bowl Classic. Kentucky has no injuries to report.
BROADCAST INFORMATION: Saturday's matchup between Kentucky and Florida tips off in Lexington at Rupp Arena at 4 P.M. and can be seen live on CBS. The game can be heard live as always on ESPN Gainesville 95.3 with coverage starting at 3:25 P.M.