The Florida Gators (16-9) and the Georgia Bulldogs (14-9) are tied for third in the SEC standings, with a 7-5 in-conference record each, but the two teams' seasons could not be more different. Georgia's best win, and only standout victory, came against South Carolina, where the Bulldogs dominated the Gamecocks to a 69-56 beating at Stegeman Coliseum. The Gators on the other hand, have taken down an elite West Virginia squad at the O'Dome, picked up key, early out of conference victories vs. St. Joe's and Oklahoma State, and have gone undefeated in SEC play at home, except for last week's mishap vs. Alabama.
While the Gators are currently projected as a nine seed in this year's NCAA Tournament according to Joe Lunardi's bracketology, and all season have been considered at least a bubble team, the Bulldogs have been completely out of the conversation, and rarely considered, if at all, to have a chance at making the Big Dance. For Florida, Tuesday night's matchup is a chance to solidify their resume, and prove why they truly deserve a spot in the NCAA Tournament. For Georgia, it's an opportunity, with six games left in their regular season schedule, to go on a run and prove why they deserve a shot to go dancing come March.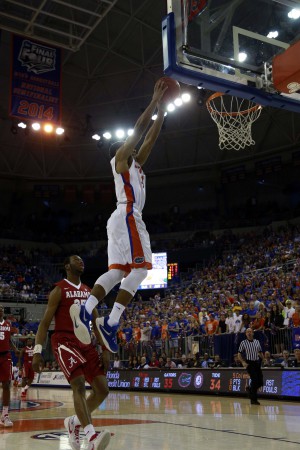 Georgia, like Florida, is a team that excels on the boards ranking 70th nationally and tied for fifth in the SEC in rebounds per game, averaging 38.6. The Bulldogs' front court attack stars sophomore forward Yante Maten, who averages a team-leading eight rebounds and 16 points per game. In the Dawgs' first game against Florida this season, Maten posted 20 points and seven rebounds on 50 percent shooting, despite his team losing by fourteen. In his most recent game, a 66-57 victory over the abysmal Mississippi State Bulldogs, Maten scored a season-high 25 points, sinking an astounding 62.5 percent of his shots from the floor.
Even though Georgia prides themselves on the glass, the Bulldogs still have quite a menacing backcourt. Junior guard J.J. Frazier and senior guard Charles Mann have been in sync the entire season, combining for 26.4 points, 8.6 rebounds and 2.6 steals per game. Despite Frazier struggling in his past four games, shooting below 30 percent in each contest, Mann has stepped up his workload, averaging 13.3 points and 4.8 rebounds per game in that span. If the Gators' backcourt allows Mann and Frazier to get into transition on Tuesday night, like they did against Alabama, Florida could be in for a long night.
The Gators come into this matchup off of potentially their worst loss of the season. Florida lost their most recent game to the Alabama Crimson Tide, 61-55, in a contest where the Gators shot horribly from every spot on the court, going 29 percent from the floor, 14 percent from three-point range and 59percent from the free throw line. Despite out-rebounding the Tide, 54-35, Florida turned their 23 offensive rebounds into a mere 11 points. If the Gators want to feature rebounding as their main asset, they must be able to convert offensive boards into second-chance points.
While John Egbunu picked up his second double-double in a row against Alabama, he and Dorian Finney-Smith were not their usual selves against the Crimson Tide. Egbunu posted 10 points and 11 rebounds on a poor 2-9 shooting and went 6-14 from the charity stripe, which may have ultimately cost the Gators the game. Dorian Finney-Smith, UF's leading scorer and rebounder on the season with 15.4 points and 8.1 boards per game, was contained to a mediocre 12 points and nine rebounds. The occasion marked only the third time in Florida's past eight games in which Finney-Smith didn't post at least 20 points. And while the Gators limited their turnovers against Alabama to only 17.6 percent of their possessions, as opposed to a stark 21.1 percent in their matchup against Ole Miss prior to the 'Bama game, Florida was only able to force 10 Alabama giveaways, a number quite low for a Gator team that averages 13.4 forced turnovers per game.
White on neutralizing Georgia's guards, said it will be the key to the game, "I don't see us scoring 80 points at Georgia." #Gators

— Kevin Brockway (@gatorhoops) February 15, 2016
BY THE NUMBERS: Florida now ranks 20th in the nation in rebounding with 40.9 boards per game, trailing only South Carolina in the SEC. The Gators' team defense also improved to 56th in the nation after the Alabama game, now allowing an average of only 66.4 points per game. Florida leads the all-time series vs. Georgia, 110-100, and have played the Bulldogs more than any other team in program history. The Gators lost their only contest vs. Georgia last season, 73-61 in Athens.
INJURY UPDATE: Georgia guard Juwan Parker remains out for the season with a torn achilles. Florida forward Alex Murphy also remains out with plantar fasciitis.
BROADCAST INFORMATION: Tuesday night's game tips off at 9:00 p.m. at Stegeman Coliseum in Athens, Georgia and can be seen live on ESPN with Brad Nessler and Sean Farnham on the call. The game can also be heard as always on ESPN Gainesville 95.3 FM or on our listen live tab, with pre-game coverage starting at 8:25 p.m.
Shots! Shots! Shots! Create & record your best basketball trick shot for your chance to win! @GatorsMBK @UF #Gators pic.twitter.com/cow0v9xR9c

— Rowdy Reptiles (@MBKRowdies) February 15, 2016