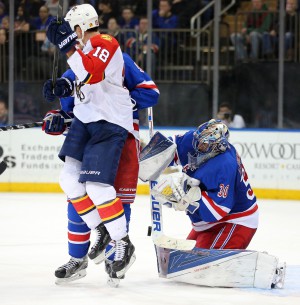 The saying "cats always land on their feet" didn't apply to the cats skating on ice at Madison Square Garden Monday night.
The Florida Panthers (40-24-9) fell to the New York Rangers (41-24-8) 4-2 despite a late push in the third period.
The Rangers scored first on a break-away goal during of the first period. Viktor Stalberg stole the puck from Jaromir Jagr and passed it to Dominic Moore, who passed it back to Stalberg. Stalberg tapped it into the goal for the Rangers.
The Rangers went up 2-0 on a power-play goal late in the 2nd period. Derick Brassard got the puck off a pass from Derek Stepan and flicked it to Mats Zuccarello. Zuccarello, with one quick swipe, hit the puck past Panthers goalie, Al Montoya.
The Panthers came fighting back. Starting from their own goal, the Panthers came storming down the ice towards Rangers goalie Henrik Lundqvist. Vincent Trocheck passed the puck to Jussi Jokinen in the corner, who then passed it back to Trocheck. Trocheck knocked in an easy goal at early in the third, making it a one-goal game.
The Rangers countered about midway through the 3rd period. After a missed goal by Derick Brassard, Kevin Klein passed to Rick Nash who scored, which made the score 3-1 Rangers.
Again, the Florida Panthers didn't go out without a fight. With 35 seconds left in the game, Jiri Hudler scored on a power play to cut the lead to one.
Twenty-seven seconds later, the Rangers' Tanner Glass knocked puck into an empty net to put away the Panthers.
Panthers center Nick Bjugstad said missed opportunities lost the game for the team.
The Rangers have a two-point lead for second place in the Metropolitan Division on the Pittsburgh Penguins.
Despite the loss, the Panthers are two points ahead of the Tampa Bay Lightning for first in the Atlantic Division.
The Panthers next game is scheduled Thursday against the Boston Bruins starting at 7 p.m.