The 1996-1997 Chicago Bulls, a team described with dreamlike success, may no longer be imagined in the same surreal setting they have been for the past two decades. The Golden State Warriors stand at 66-7 and must go 7-2 in their final nine games to finish 73-9, one game better than the 72-10, 1996-1997 Chicago Bulls. Not only have the Warriors dominated their opponents this season with an average scoring margin of +11.1, but they've been perfect at home, going 35-0 so far at the Oracle Arena.
The Celtics, Lakers, Bulls and now Warriors are the only franchises in NBA history to have multiple 66-win seasons.

— Alex Kennedy (@AlexKennedyNBA) March 28, 2016
The Warriors play seven different teams in their final nine games including the Warriors, Celtics, Jazz, Trailblazers, Timberwolves, Spurs (2) and Grizzlies (2). Five of those teams, if the season ended today, would finish in the playoffs. While Festus Ezeli and Andre Iguodala remain questionable for the rest of the week with respective knee and ankle injuries, Golden State still boasts one of the deepest benches in the association, and hasn't struggled to maintain the "one up, one down" philosophy they've preached for the last two years.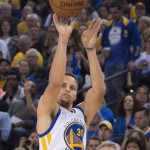 While many teams would've tried to keep the record out of their locker rooms, in order to avoid a distraction, the Warriors have openly accepted the challenge. ESPN NBA analyst Bruce Bowen says that this embrace has helped the team keep their focus and not get ahead of themselves. Fellow NBA analyst Chris Broussard agreed with Bowen as well, saying that the record has kept the team playing good basketball, even after clinching a playoff spot.
The Warriors still have nine games to play, and could very well fall short of the seven wins needed to pass the Bulls. But, if Golden State somehow pulls it off, and wins the necessary amount of games, the Warriors would not only go down as one of the greatest teams of all time, but perhaps, the greatest.