The Orange and Blue Debut is days away. Just like last year, there is no clear front runner in the quarterback competition. Luke Del Rio has taken the most snaps with the first team offense in front of Austin Appleby, Feleipe Franks, and Kyle Trask, but, head coach Jim McElwain admitted on Monday that none of the quarterbacks have stood out in front of the other.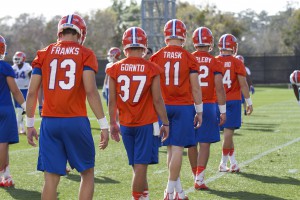 Even last year with Will Grier and Treon Harris, McElwain never solidified a starter. After the Ole Miss game, when Grier tossed four touchdowns in the first half, McElwain didn't say that Grier was QB-1. This year, it seems like McElwain will not disclose his starter until the season starts. In the team's most recent scrimmage, the former Alabama offensive coordinator said each of the four quarterbacks shined in a way.
As for the other position groups, McElwain was especially pleased with how the defensive line finished plays in the most recent scrimmage. He has also seen a lot of consistency from the running backs. Both of those positions have benefitted greatly with the numbers at offensive line, a group that hindered practices last year because of a lack of depth.
The team is still ironing out details on the rosters for Friday's spring game. Specifically, McElwain is figuring out which players are going to jump sideline and get a little more extra reps than others. With the bright lights at The Swamp and a healthy offensive line, it's going to be more eventful than last year's game according to McElwain.
The Orange and Blue Debut will be this Friday at 7 p.m.