The Miami Marlins are starting off slow in the Don Mattingly era.
Their loss to the Washington Nationals Sunday dropped their record to 1-3. Giancarlo Stanton put the Marlins on the scoreboard first by singling to left center at the top of the first, bringing in Dee Gordon. That 1-0 lead was short lived as Bryce Harper hit a double and brought in Anthony Rendon in the bottom of the first. The score would be 1-1 for the next five innings until Washington scored three more runs in the bottom of the seventh to bring the score to 4-1. Christian Yelich brought the score to within two at the top of the ninth by homering to right center, but the Marlins failed to score anymore runs.
Through the first four games, the Marlins find themselves 24th in runs scored, 24th in hits and 22nd in RBIs. Their pitching is among the worst in the MLB as they rank 25th with a 5.59 ERA and 26th in strikeouts with 38. Jose Fernandez leads all Miami pitchers in strikeouts with 13.
Per Elias, Jose Fernandez yesterday became only 3rd pitcher since 1900 to K at least 13 in his 1st start of season & lose. Others: 1937,1956

— Barry Jackson (@flasportsbuzz) April 7, 2016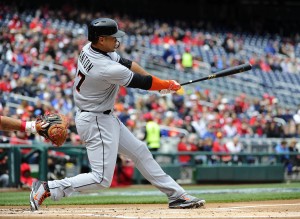 After suffering a broken hand in the second half of the season last year, Giancarlo Stanton is off to a solid start as he leads all Marlins batters in RBIs with four. Stanton had 27 home runs and 67 RBIs in 2015 before suffering his injury.
The Marlins will take on the defending National League champion New York Mets Monday night at 7 p.m. The Mets have struggled to start the season as well and are coming off a two-game losing streak in their series with the Phillies.