The Tampa Bay Rays (20-21) are coming off  back-to-back losses against the Detroit Tigers this past weekend and are looking for redemption when they play the Miami Marlins (22-21)  in Miami on Monday night.
The Rays are looking for their sixth consecutive win against the Marlins and hope they will still be able to achieve this goal even without their star center fielder Kevin Kiermaier.
Kiermaier, broke two bones in his left hand while attempting to make a diving catch in Saturdays game against the Tigers.  Kiermaier batted .313 in his last nine games and is a career .424 hitter against Miami.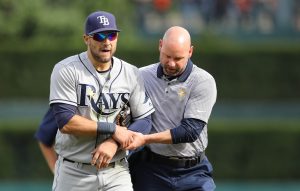 With such a significant injury Kiermaier will be added to the disabled list and the Rays are bringing up outfield prospect Mike Mahtook to take his spot.
This could be one of the best times for the Rays to face the Marlins as they have lost four of the last five games they played including an 8-2 home loss to Washington on Sunday.
The game is set to start at 7:10 p.m. and will be aired on Fox Sports Florida.