Every teenager can relate to having intentions of sleeping in late and not being disturbed by anything or anyone. On the flip side to that, every teenager can relate to being woken up at an unreasonably early time by their mother.
However, when you were a teenager approaching your senior year of high school, can you relate to being woken up at an unreasonably early time by your mother whose voice…replacing your alarm clock… continuously shouted, "THE AIR FORCE WANTS YOU!!!"
Chandler Coons has been committed to play lacrosse for the United States Air Force Academy since last June. Before the Air Force was ever on his agenda, the game plan was always to play lacrosse first, then join the military afterward He recalls the moment when his mother woke him up with the good news.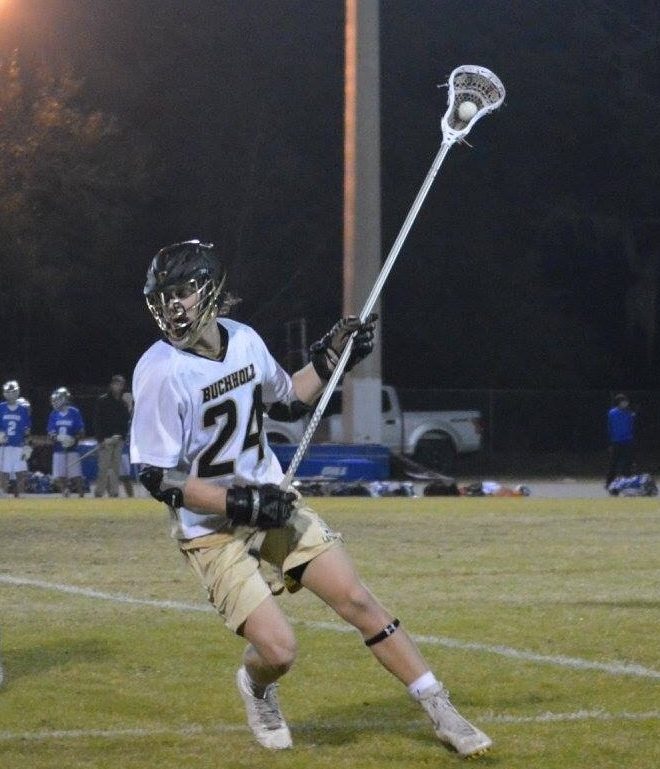 So, when the Air Force presented itself… you could say that Chandler's drawn out X's and O's for lacrosse really did stick.
Ironically, when he sent his initial highlight reel to Air Force… he didn't even get a response back.
Raised in Gainesville, Florida by father Samuel Coons III and mother Jamie Coons. Chandler was brought up in a tight-knit military family whose sole purpose was to instill a great deal of work ethic and the understanding of patriotism.
Both Chandler's parents came from military backgrounds and they then laced up and shined their shoes. His father served in the United States Navy and his mother served in the United States Air Force.
Wait, time out. His father, Samuel Coons III, served in the United States Navy. The sports world knows the Navy and the Air Force do not mix on the playing field, but it is understood that Chandler will always have the support of his dad whether he is serving up points on the field or serving in the United States Air Force.
As a left-handed defender, Chandler has become exceptionally well at covering a lot of ground to fight off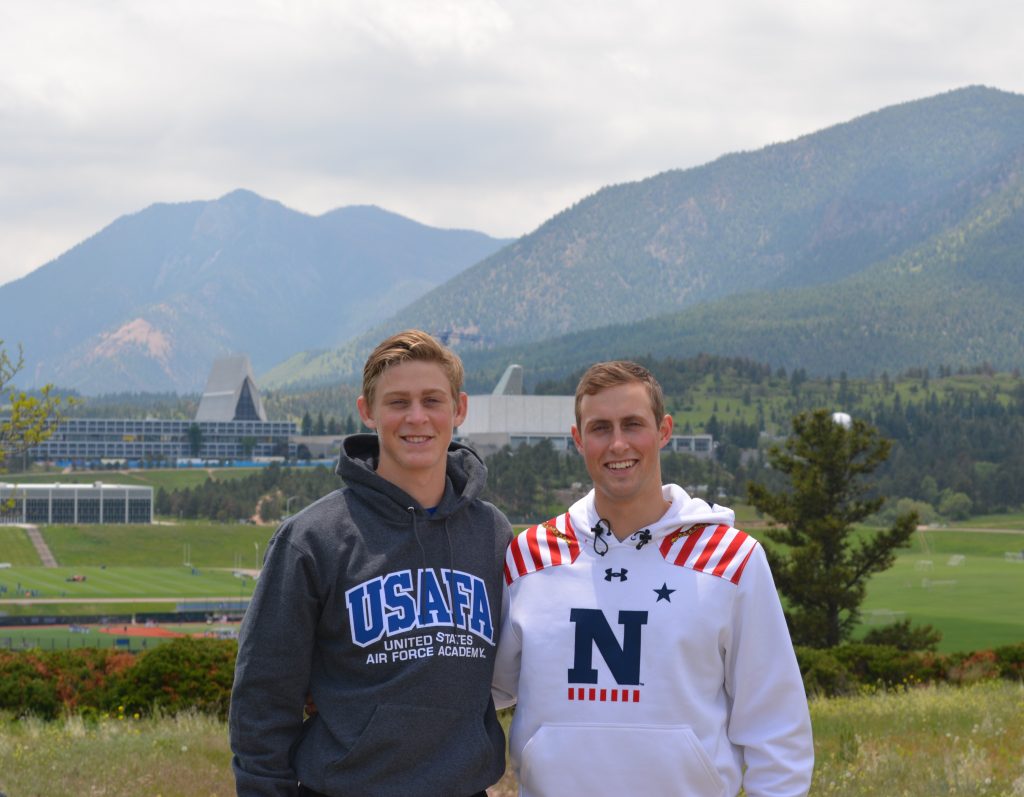 the opposing team. His defensive tactics will become even more resourceful because the term "sibling rivalry" will now be taken to another level with his older brother, Samuel Coons IV, enrolled in the United States Naval Academy.
Their parents should be prepared to dust off the Coons' Rulebook for the upcoming year-round face-offs between these two brothers. Older brother Sam will need to dodge those Navy digs from his younger brother and Chandler will need to play man-to-man defense against those Air Force attacks from his older brother.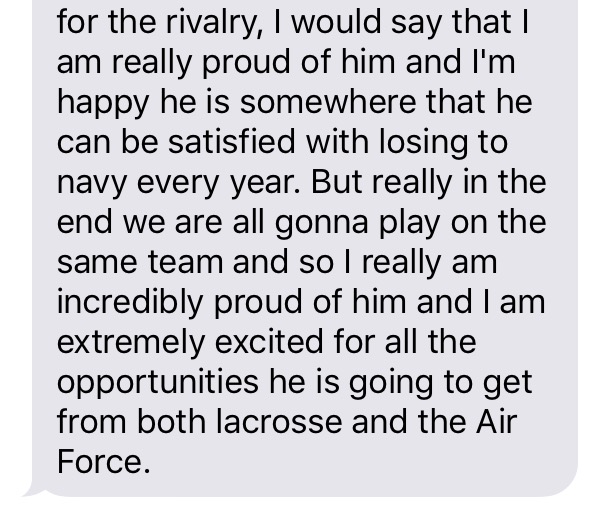 With Sam being away at the Naval Academy, he showed his support for his younger brother via text message.
"…But really in the end we are all gonna play on the same team…"   -Samuel Coons IV
Chandler was awarded with the 2016 U.S. Lacrosse Academic All-American award, representing as the only Buchholz Boy's Lacrosse player in that category this year. While trying to maintain his game in and out of the classroom this year, he also had to keep up with a lengthy application process to even be considered for the Air Force Academy.
Most people believe that once a college or university offers you a scholarship, you sign the papers to officially commit and then you're on your way to the next level. That process may be the case for some athletes, however Chandler had a few more steps to take just to be considered for a Congressional or Senatorial nomination—just to be considered.
Imagine four one-hour phone interviews, followed by one face-to-face interview that entailed rapid fire questions targeted at you. Composing thirteen essays, filling out three separate lengthy applications and then appearing for three panel interviews.
If a student is accepted into a Service Academy, they must obtain either a Presidential, Vice Presidential,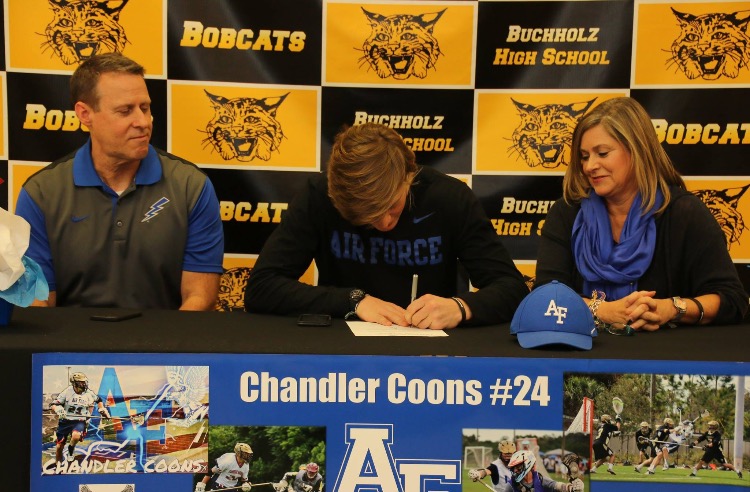 Congressional, or Senatorial nomination to be granted an appointment to a Service Academy. In May, Chandler received both a nomination from the President and Congressman Ted Yoho.
Growing up in Gainesville, Florida where there's an elevation of 151 feet, there's a lot Chandler will need to get accustom to once he takes flight to Colorado Springs. His new home stands tall at approximately 7,300 feet above sea level. With his work ethic and level head, good attitude will overcome the high altitude and his skills will become even more elevated.
After interviewing the Coons family over dinner, you start to realize a few things other than the rules of lacrosse. You realize that the level of patriotism within the Coons' household goes above and beyond your ideal "American family." You realize family is your first squadron. You realize once Chandler leaves for the Air Force Academy, the house will be empty and "Momma Coons" will have to give up physically cradling her boys and maybe pick up and start cradling an old lacrosse stick laying around the house.
And lastly, you realize Italian food is good for any occasion.
Affirmative.