When Jose Fernandez walked into Mike Fahrman's home room in high school, he had no idea how much of an impact the "new kid" would have on him.
Fahrman is a former baseball player for the Gators from 2012 to 2016. He met Fernandez in Tampa at the school they were both attending, Alonso High School.
Fly High and Soar Proudly pic.twitter.com/lPBtniHK74

— Alonso High (@alonsohigh) September 25, 2016
Fahrman remembers the humility that his young teammate displayed. The energy and excitement that Fernandez brought to the Alonso team was unmatched; his work ethic was an example that the whole team looked up to. The Eagles won two Florida Class 6A state championships during Fernandez's time on the team.  Even in high school, Fernandez threw in the low 90's and scouts flocked to see him pitch as he continued to play well for his high school team.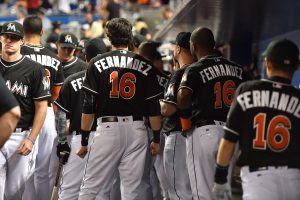 Fernandez was an inspiration to Fahrman and the entire team. He kept up a good attitude and gave the team and his coaches all he had. Fernandez's story of how he got to the United States coming from Cuba, how he was put in prison at a young age for trying to leave the country, and how he saved his mother from drowning by diving into the water from a boat are part of the trials and tribulations he had to overcome; it all contributed to the competitive spirit he displayed.
Last night was an emotional victory for Fernandez's MLB team, the Miami Marlins, as a special ceremony was held prior to the game and all players sported the #16 jersey to honor the 24-year-old pitcher. Fahrman says watching last night's game was surreal, especially after Dee Gordon's homer to lead off the game.
Fahrman says he is still somewhat in shock over the loss of his high school teammate…but adds, he will never forget him.