Following a heartbreaking 18-13 loss to Auburn on the road, the LSU Tigers (2-2) will try to bounce back at home this weekend against the Missouri Tigers (2-2). Interim head coach and former defensive line coach Ed Orgeron will get a chance to revamp LSU's offense as the Tigers play without head coach Les Miles for the first time since 2005. Meanwhile, this is Missouri's first-ever visit to Death Valley and their first meeting with LSU since joining the SEC in 2012.
LSU's Ed Orgeron says this week's transition has been difficult for the Tigers, and Mizzou's 79-0 win over Delaware State shows how explosive their offense is. Along with Les Miles, LSU's offensive coordinator Cam Cameron was also let go and the Tigers will need to find a way to put points on the board in this conference matchup.
This isn't the first time Orgeron has stepped into a midseason head coaching role, and he says his experience at USC allowed him to take this promotion in stride. In 2013, Orgeron led the Trojans to an 8-2 record as they finished 10-4 overall following the firing of head coach Lane Kiffin.
For Missouri, this game is an opportunity to showcase the SEC's top-ranked offense (569.5 YPG) against the conference's third-ranked defense, as LSU is only allowing 341.2 yards per game.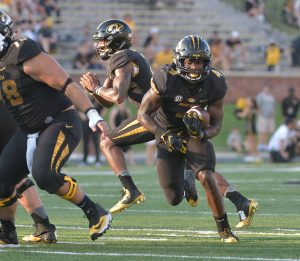 Mizzou head coach Barry Odom says his Tigers must prepare extensively for this matchup, regardless of LSU's coaching situation. After all, since 1960 LSU has had a 201-59-3 record in night games at home. Odom says there's no way to prepare for a matchup in Death Valley, but his Tigers have been promoting on-field communication since the preseason.
Kickoff from Baton Rouge is set for 7:30 p.m.