The Georgia Bulldogs will host the Auburn Tigers in a SEC match-up today.
The Tigers travel to Athens, Georgia with bumps and bruises, though. They beat the Vanderbilt Commodores 23-16 last week, but it might have been costly. Auburn head coach Gus Malzahn says they took a beating last week against Vanderbilt, but big games like today's can help players heal faster.
Hurting for Pettway
One player Auburn is hoping to heal quickly is running back Kamryn Pettway. Pettway suffered a quadricep injury against Vanderbilt last week. He is currently the leading rusher in the conference. Georgia Bulldogs head coach Kirby Smart says Pettway is one big reason Auburn's rushing attack is hard to stop.
If Pettway is unable to play, Malzahn says whoever replaces him needs to be successful in order for the team to be successful.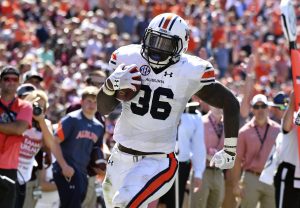 Whoever is starting at running back for Auburn will have to run through Georgia's defensive line. Malzahn says Georgia plays a lot of different guys on defense which keeps them fresh. He commended the Bulldogs specifically on their improved run defense as well.
Bulldogs On The Rise
The Bulldogs are coming off a 27-24 win over the Kentucky Wildcats. Freshman quarterback Jacob Eason completed 17 of 31 passes and threw for 245 yards and a touchdown, and running back Sony Michel ran for 127 rushing yards and a touchdown.
Smart knows offensive success won't be easy with Auburn's defense this week. He says they must find a way to run the football, which is challenging because they stop the run really well.
This will be the 120th time the Bulldogs and the Tigers will meet in what is known as the Deep South's oldest rivalry. Malzahn mentioned they have struggled on the road in this rivalry — Auburn last won at Georgia in 2005. Smart says Stanford Stadium is a great "home field advantage" because of the crowd noise and passionate energy from both fans.
The Deep South's Oldest rivalry can be seen on CBS. Kickoff is at 3:30 p.m..