With offers from Division III football teams and an academic scholarship from the University of Delaware, Jon Gould had the chance to play for a team under scholarship. However, after touring the University of Florida campus during his senior year of high school and stepping into the Ben Hill Griffin stadium, he knew where his heart was. Of course, the warm weather helped too.
Prior to Gould's junior year of high school, he had never played an organized game of football in his life.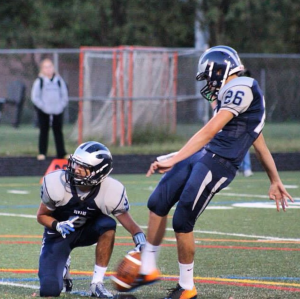 "I've always wanted to play football though" Jon said; However, his "parents never liked the idea of a contact sport where [he] could severely injure [himself]."
During the summer before his junior year of high school, Jon used to go to a local park to play two-hand touch football with his friends. After realizing he was a pretty good kicker, he decided to try out for the varsity high school football team. Jon says his parents were very supportive because of the lack of contact kicker's get.
Gould was the starting punter by his senior year of high school and was named All-County and All-State honorable mention.
After receiving and turning down his Division III offers and deciding to go to the University of Florida, his whole family urged him to at least try out to be a walk-on.
"Why not try out?" Jon said. "So I tried out and it worked out for me."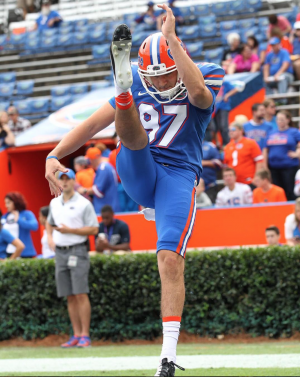 After sorting through and finishing the piles of paperwork walk-ons needed to fill out in order to tryout, Jon was finally able to show the Florida Gator football coaches his talents. The day after try outs, Jon received a call informing him that he would be practicing with the team today. Unclear of what this meant, Jon says he called all his family and friends telling them he made the team. Later he found out that he had just made it past the first round of cuts. Ultimately, after practicing with the team for awhile, he had officially made the team as a walk-on punter.
His mother, Tricia, said, "there were no words to describe how excited, and happy, and proud of him that we were when he made the team."
However, his path to becoming a walk-on on the Florida Gator Football team wasn't an easy one.
Jon Gould was diagnosed with Hodgkin's lymphoma when he was 10 years old.
His mother described him as a typical fifth grader. He was "always a happy kid, always got good grades and was always easy to get along with. He was the kid all the other parents wanted their kids to be friends with."
During the spring of 2008, he started to show symptoms. After a trip to Gainesville, Florida for spring break, Jon was exhibiting basic sinus infection symptoms: stuffy nose and drowsiness. When he arrived back home to Baltimore, Maryland, his father, Rob Gould, took him into their local pediatrician. The doctor, Dr. Michael May, checked his symptoms, agreed he had a sinus infection and started writing him a prescription. Right as they were leaving, Rob added that Jon had severe night sweats. This is when the doctor became alarmed. Rob explained that Jon woke up in the morning with his shirt soaking wet around his neck. Tricia Petrisko, Jon's mother and a pediatric nurse, says night sweats are a major indicator of cancer.
Jon was then immediately sent to advanced radiology to have X-rays taken.
Tricia received a call that afternoon from Dr. Michael May, the pediatrician she directly works for. She remembers thinking it was weird having the pediatrician call her for a sinus infection visit. Little did she know that he would soon tell her that she needed to transport her son to the Johns Hopkins Hospital Pediatric Emergency room. Tricia says she fell to her knees in disbelief.
The X-rays and CAT scans showed lymph nodes the size of oranges in Jon's chest. Despite the test results and his symptoms, cells had to be extracted from his body in order to prove he had Hodgkin's lymphoma. To prove it, he had to undergo a bronchoscopy, and a bone marrow aspiration in both of his hips. Both of these tests were very painful and inconclusive. The doctors ended up having to remove a whole lymph node out from under Jon's neck to finally prove he had lymphoma.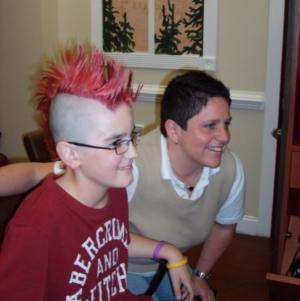 After his diagnosis, Jon went through six months of treatment, starting with 12 weeks of rounds of chemotherapy and then a cycle of daily radiation. During these six months, Jon had to wear a mask to school due to his lack of immune system.
Rebecca Gould, Jon's sister, said that during the treatment, "he was still a fun loving person and had a great outlook on life."
This truly showed when he found out he was going to lose his hair to chemotherapy. Before losing his hair, Jon shaved his head into a mohawk and then dyed it hot pink.
His mom explained him as "the kind of kid who goes big or goes home."
Jon stayed optimistic through his treatment. "He never one time complained," Tricia said. She explained that Jon always went with the flow.
Johns Hopkins Pediatric Hospital has a tradition that every pediatric cancer patient rings a giant bell on their last day of treatment.  On October 15, 2008, the day Jon's cancer was declared in remission, he finally got to ring that bell.  Everyone in the waiting room and all the staff came out and started clapping.
"It was amazing," Jon said.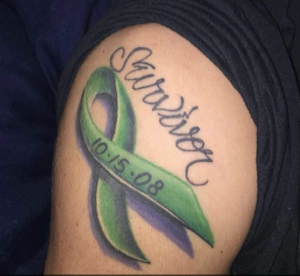 October 15, 2008 is a date the Gould family will always remember. As a family, Jon, his mother, his father, and his sister all got tattoos to symbolize this date. Jon wanted to show he was a cancer survivor.