The Vanderbilt Commodores (8-9, 2-3 SEC) and Georgia Bulldogs (11-6, 3-2 SEC) are set for their first and only meeting of the 2017 regular season.
Georgia is looking to bounce back after falling to Florida on Saturday, 80-76. The Commodores are hoping for a win tonight to snap their three-game losing streak.
Their History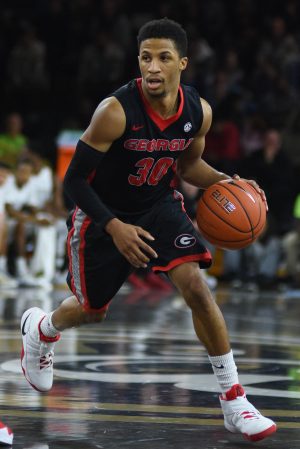 Though Vanderbilt leads the series between the two teams 91-50, the Bulldogs have the home advantage this time. Georgia is 34-28 when playing Vanderbilt at home.
Both teams met up last on February 20, 2016, in Nashville. Vanderbilt left with the win, 80-67, handing the Bulldogs their 11th loss of the 2015-2016 season.
When the two teams met last February, then-sophomore guard Wade Baldwin IV led Vanderbilt in points with 17. Georgia's then-junior guard J.J. Frazier led both teams in points with 21. The Commodores out-rebounded the team 39-38. Vanderbilt held the Bulldogs 38.1% in shooting, while the Commodores shot for 45.5%.
That game was one of Commodore center Damian Jones' best that season, with 16 rebounds and 15 points.
This Season
Georgia has won three of their five conference games this season. The Bulldogs have only lost to South Carolina (14-3, 4-0 SEC) and Florida (14-3, 5-0 SEC)  both of who are undefeated in conference play. Georgia averages 73.8 points per game and are No.4 in the SEC in rebounds, with 39.6 per game.
Commodores and Bulldogs Tuesday night in Athens. #AnchorDown https://t.co/YBAlOLMPTa pic.twitter.com/NCLt5Vj635

— VandyMBB (@VandyMBB) January 16, 2017
Vanderbilt, on the other hand, has lost three of their five conference games already. The team has lost to Alabama (10-6, 3-1 SEC), Kentucky (15-2, 5-0 SEC), and Tennessee (9-8, 2-3 SEC) all within 15 points. The Commodores average 72.9 points per game. They rank 13th in the conference for rebounds with 35.1 per game.
Key Players
Last season, Baldwin IV led the Commodores in points with 466. With Baldwin's early departure to the NBA after last season, junior-guard Matthew Fisher-Davis leads the team in points with 16.7 per game. He falls in the No.6 spot for ppg in the SEC. Junior forward Jeff Robinson leads the Commodores in rebounds and stands at the No.5 spot in rebounds per game with 7.2.
Greetings and salutations from Athens, GA. It's @VandyMBB vs. @UGABasketball tonight on @ESPNU at 9ET. pic.twitter.com/A1GyJx7GXv

— Mike Couzens (@MikeCouzens) January 17, 2017
At the No.2 spot in the SEC is Georgia forward Yante Maten, a junior with 19.6 ppg. The star of last season's matchup between the two teams, J.J. Frazier, falls right behind Fisher-Davis with 16.6 ppg. Yante Maten also leads the Bulldogs defensively in rebounds, where he's recorded for 8.3 rebounds per game and is ranked at the No.3 spot.
Georgia will need Maten and Frazier to come out strong tonight to not have a repeat of last year.
Tip-off is set for 9 p.m.