While the four remaining NFL teams prepare for their respective conference championships, the Jacksonville Jaguars are laying the foundation for an offseason overhaul.
The Jags announced that they will retain Nathaniel Hackett as offensive coordinator, despite interviewing Chip Kelly for the opening. Originally hired as a quarterbacks coach, Hackett served as Jacksonville's interim offensive coordinator for the second half of the 2016 season.
Can Hackett Hack It?
Under Hackett's playcalling, Jacksonville's team rankings improved drastically in several offensive categories, including:
Time of possession – 30th to 13th
Red zone efficiency – 16th to fifth
Rushing yards per game – 30th (72.6 YPG) to fifth (124.8 YPG)
Yards per rush – 26th (3.79) to 13th (4.35)
Apart from these categories, Hackett also resurrected Jacksonville from dead last in rushes of four-plus yards (38) to first  in the league (112).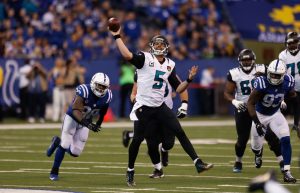 New Defensive Line Coach
Along with Hackett's official promotion, the Jags also announced that former Clemson co-defensive coordinator and defensive ends coach Marion Hobby will serve as their new defensive line coach. Hobby has worked with Jaguar head coach Doug Marrone before. He served as a defensive ends coach for the Saints during Marrone's time in New Orleans as offensive coordinator (2006-08).
With 22 years of coaching under his belt, Hobby could have an immediate impact on Jacksonville's defense. Last season, the Jaguars finished 19th in total sacks (33) and 32nd in interceptions with a league-low of seven picks. Those two stats are a perfect example of why NFL teams stress the art of pressuring opposing quarterbacks.
Meanwhile, over the past five seasons Hobby's Tigers totaled 597 tackles for loss. That is the most by any college football team in the country.
Under Construction
In the past six days, Doug Marrone and the Jaguars have added seven different coaches to their staff. Former Broncos special teams coordinator Joe DeCamillis will take over special teams in Jacksonville, returning to the position he held from 2007-08. In 24 seasons of coaching, DeCamillis' special teams units have earned a combined 43 turnovers and 29 kick return scores.
Another fresh face is that of secondary coach Perry Fewell, who will leave the Washington Redskins for warmer weather. Fewell previously worked under Tom Coughlin in both Jacksonville and New York. There, he served as defensive coordinator for the Giants' 2011-12 Super Bowl championship team.
Following a 3-13 record, all of these coaching additions are pointing towards a shared goal for success in the future.