Wednesday night's loss to the South Carolina Gamecocks was tough for the Gators and Gator Nation. The match-up gave Florida a chance to earn their first win vs. a Top25 team after going 0-3 in their past opportunities this season. While the loss will more than likely cause a bit of a fall in the next AP Poll, the Gators now focus on the Vanderbilt Commodores, their opponent this Saturday at Exactech Arena at the O'Connell Center. The 'Dores are 8-10 overall and 2-4 in SEC play, but cannot be discounted.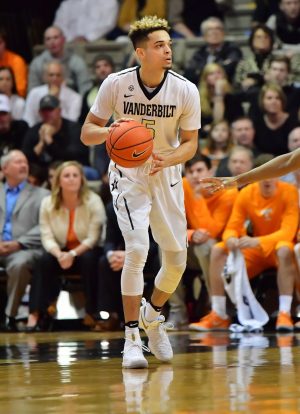 Matthew Fisher-Playless
Despite leading the team in scoring this season, averaging 16.3 points per game, while shooting 41.6 percent from the field and 39.4 percent from downtown, Matthew Fisher-Davis was forced to come off of the bench for the second time this season in Vanderbilt's most recent loss to Georgia. Fisher-Davis was removed from the starting line-up after what Coach Bryce Drew described as "behavioral issues." This is the second time this year that Fisher-Davis didn't start because of conduct related issues. In the loss against UGA, Fisher-Davis went 4-of-13 from the floor and 1-of-7 from three-point range. He also played the third-least minutes he's played all season in the defeat. Fisher-Davis is the team's most versatile player, and when he's off his game, the entire Commodore squad suffers.
Vandy for Three
If there's one item that stands out in Vanderbilt's scouting report, it's their ability to knock down threes at will. The 'Dores rank 36th in the nation and 1st in the SEC in three-point percentage, knocking down shots from downtown at a 39 percent clip. Five of their seven most-played players shoot over 36 percent from three, and junior Riley LaChance, the team's best three-point shooter, leads the nation in three-point percentage at 55.9 percent. LaChance is shooting 8.2 percent better than the next best three-pointer shooter in the Southeastern Conference. Vandy's opporunities from beyond the arc don't just come in spurts, they come the entire game at volume. The Commodores rank first in three-point shots attempted, and have taken 98 more shots from downtown than the Gators this season. Florida Head Coach Mike White
Vandy's opportunities from beyond the arc don't just come in spurts, they come the entire game at volume. The Commodores rank first in three-point shots attempted, and have taken 98 more shots from downtown than the Gators this season. Florida Head Coach Mike White discussed Vanderbilt's volatile offense in his press conference on Friday afternoon. He also talked about the need to over-defend LaChance.
Gators Struggle from Behind the Arc
Florida is coming off of their worst three-point performance in 25 years. For the first time since January of 1992, the Gators failed to make a three-point basket, going 0-of-17 from beyond the arc. While their defense kept the game close, eventually leading to a four-point defeat, against a team like Vanderbilt, you can't afford to fall behind in what will more than likely be a shootout. Coach Mike White said that Florida couldn't buy a basket vs. South Carolina and that everybody could've done something better from himself, to the players, to the scouts.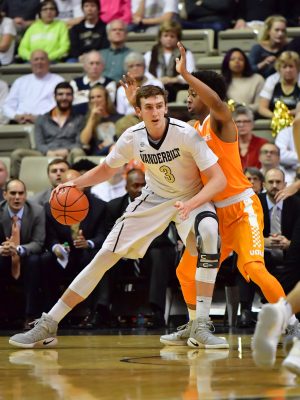 Battle for Boards
Neither team are exactly beasts on the boards, but Florida must be weary of Luke Kornet and Jeff Roberson. Kornet, who seems like he's been in Nashville for the better part of a decade, stands at 7'1″ and is averaging 13.6 points, 6.3 rebounds and 1.9 blocks per game. Although he only weighs 250 pounds for a seven-footer, Kornet plays wider than his body, and has great skill and toughness in the post. Roberson is the team's other leading rebounder, averaging 10.4 points and 7.3 rebounds per game. Like Canyon Barry, Roberson loves to crash the boards unexpectedly from the perimeter and revitalize the team's offensive set. Overall, UF and Vanderbilt rank third and second to last respectively in rebounds per game in the SEC. Mike White summarized how Kornet is so different than other SEC big -men.
According to KenPom.com, the Florida Gators now rank 30th in offensive efficiency and 14th in defensive efficiency in the nation. The Commodores rank closely on offense, coming in at 43rd in offensive efficiency, but dwell far behind in defensive efficiency, where they rank 181st. In-conference, both teams rank top-five in points per possession, as Florida ranks third and Vanderbilt ranks fifth. UF and VU both have the ability to score in bunches, but the Gators' defensive ability gives them the advantage in the overall match-up.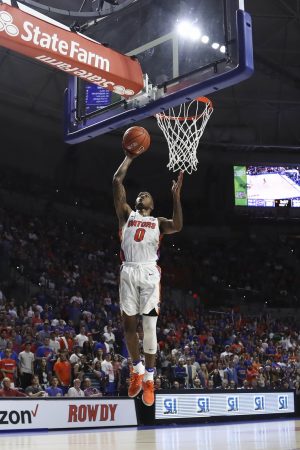 Fast-Break Basketball
Florida continues to excel in transition, forcing the most steals per game of any team in the SEC. The Gators are coming away with 8.39 steals per game, while Vanderbilt ranks dead last in the conference, finishing with an average of only 4.11 steals per contest. As we've seen recently, the Gators' best offense comes when they run the floor. You may also see a full-court press against the Commodores as the Gators certainly has the athleticism to do it and force turnovers.
Old Rivalries Never Die
In the 1998 NCAA Tournament, Vanderbilt Head Coach Bryce Drew hit what is known as, "The Shot," to Valparaiso basketball faithful. As time expired, Drew hit a 23-foot three-pointer to give the 13 seed Crusaders an upset victory over Mike White's three seed Ole Miss Rebels. Coach White said that he didn't sleep for a week after that game.
How to Watch and Listen
Saturday afternoon's game tips-off at noon and can be seen on CBS, with Kevin Harlan and Jim Sparnarkel on the call. You can listen to the game, as always, on the Gator IMG Radio Network here on ESPN 98.1 FM and 850 AM WRUF.