On Tuesday afternoon, Florida Head Coach Mike White said Canyon Barry, the team's second-leading scorer, is considered questionable for Wednesday night's matchup against LSU in Baton Rouge. Barry suffered the injury Monday afternoon at practice, according to the University Athletic Association. They put him in a walking boot immediately after.
Source: Canyon Barry sprained his ankle @ practice today & is in a walking boot as a tentative measure. Coach White will have more tomorrow.

— Jake Winderman (@jakewinderman) January 24, 2017
Ankle Woes
"Canyon [Barry] sprained his ankle at practice today (Monday) and is in a walking boot as a preventative measure."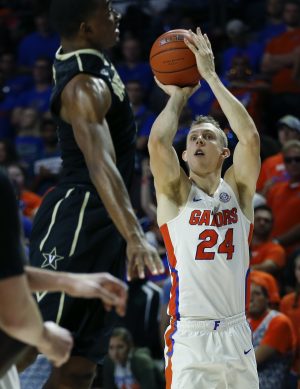 Barry is averaging 12.4 points and 3.3 rebounds per game this season. He's scored at least 13 points off of the bench in seven of his last nine games. He had his season-high just a week and a half ago, when he dropped 27 points on 5-for-8 shooting from beyond the arc against Georgia.
Barry transferred to Florida from the College of Charleston this off-season as a graduate transfer and was eligible to play immediately. He is also the son of NBA and NCAA legend Rick Barry, whom he gets his under-hand style free-throw form from.
Coach Mike White said that Barry is "50/50" for Wednesday night's game. UF-LSU tips off at 9 p.m.