In today's world, most three-year olds have already learned how to maneuver through their parents' iPhones and have weaseled their way into receiving an iPad for Christmas. Now, that's not saying those particular kids don't enjoy sports. Of course, they do. They can spot a good video game on Apples' App Store for less than five dollars and play the video so much that they become practically a professional video game athlete.
Now, that does not describe all kids nowadays—but I bet a handful of kids came to mind when you read that description. The harder question: How many kids do you know, at the age of just three-years-old, express interest in golf? How many kids do you know, at three-years-old, pick up a golf club and realize the objective is to swing it, and not AT someone? Fast forward a few years, how many kids or girls do you know, at the age of ten-years-old, can say they truly have a love and passion for the game of golf?
Not many, right?
 "Golf isn't for young people. My grandpa plays golf. Golf is boring. Golf is slow—I need something fast, so I can get back to playing my video games. And what's a bogey and a par 4?"—Said by most kids today. Probably.
 If you answered no to the majority of those questions above, look no further and become very familiar with Katelyn Huber.
KATE UNDER THE AGE OF 8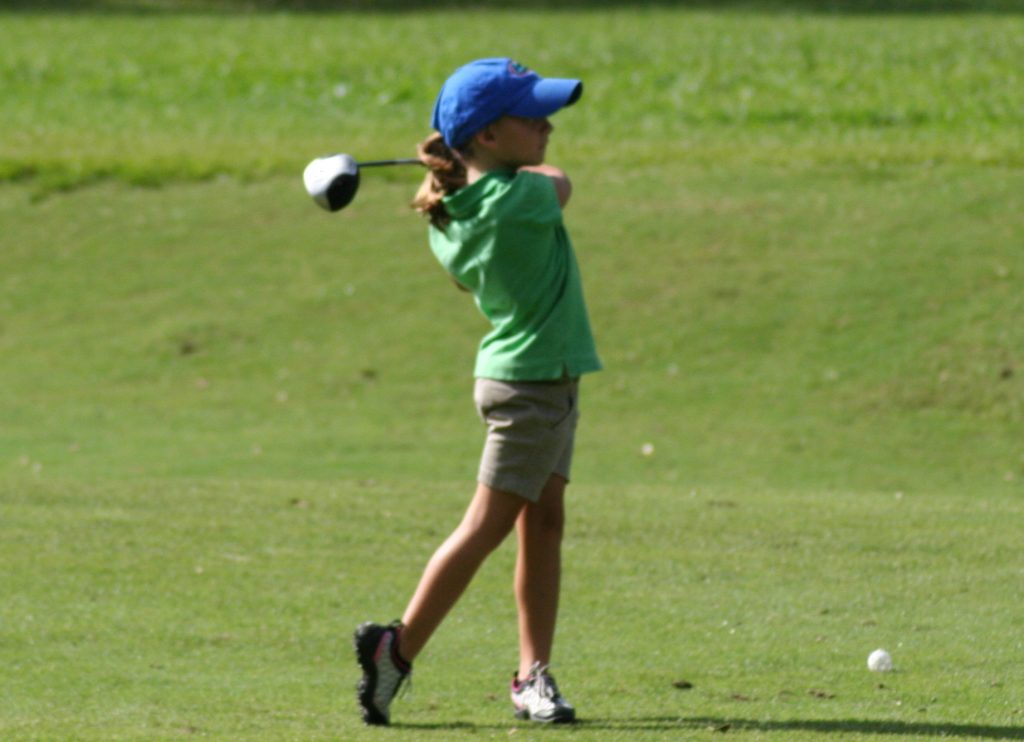 Katelyn and her family are originally from Indiana and moved down to Gainesville, Florida in 2011. It wasn't asked why they made the move, however it doesn't take a long shot to figure out why this golf-loving family hasn't left sunny Gainesville.
Indiana is still dear to her heart. Some of Kate's best and earliest golf memories took place in Indiana.
She remembers when her dad, Tim, was a golf course superintendent and taking her and her older sister, Madelyn, out at night on the course. He would go around picking up the cups at each hole, but not before Madelyn and Katelyn got their shot at putting and creating life-long memories for a then three-year-old Katelyn.
Sounds like a hole-in-one.
HER DRIVING RANGE
Kate never took any lessons and her parents never had to tell her to go out on the course to practice.
Her drive for the game of golf is exceptionally out of range for a girl her age.
A typical school day for Kate means getting to school by 7:45 a.m. and being the best she can be in the classroom. Her competitive spirit leaves the golf course for a few hours and enters the school zone. She competes against classmates for the better test and homework scores, unlike in golf, in this competition—she obviously aims for the HIGHEST score possible.
After school, she gets picked up by her mom, Jackie, it's time to get back home to finish up homework and then head out to the course because as a competitor, she competes with herself to get better each day.
Now at the age of 10, nothing has changed for Kate—other than her swing getting better and her Dad no longer needing to "ALLOW" her to win after 18-holes.
Kate wins on her own now.
Playing rounds with her dad is the reason for her success at such a young age. It also probably helps she got used to competing against her dad because now a lot of her competitors are boys.
Clearly, she has no problem beating up on boys—no matter the age.
Speaking of age. One of the most interesting facts of Kate's life is her maturity. There's no question her about her game being mature. She has an endless amount of medals, trophies and awards tucked away in her bedroom to prove that point. But how many ten-year-olds do you know can say they truly enjoy spending time and playing golf with the retired men and members of Gainesville Country Club? How many ten-year-olds do you know would take the time to even indulge in a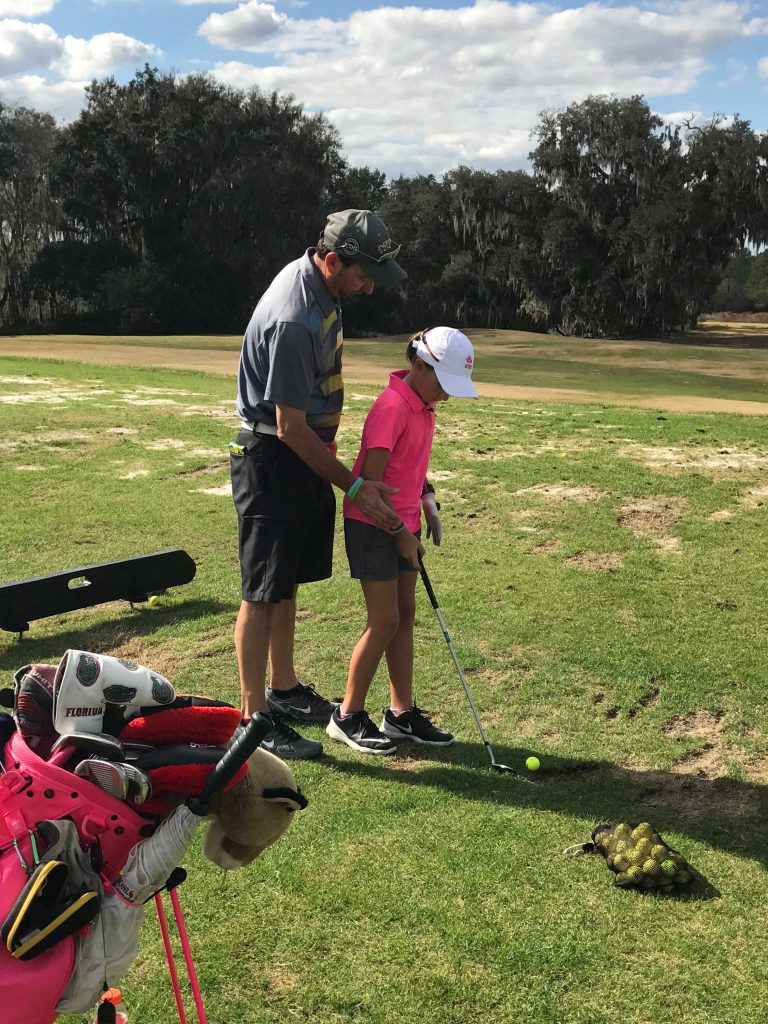 conversation with anyone over the age of 50?
Let that sink in.
Kate has expressed her love for going out on the course, practicing her game, and just conversing with the retirees who have so much wisdom to pass along.
And their respect for her almost compares to Kate's respect for the game of golf.
PUTTING TO KNOW KATE
It doesn't take a golf expert or analyst to figure out Kate is truly one of a kind. It doesn't take a golf course superintended to realize everyone should strive (or stroke) to live their life and chase after their dreams like Kate does out on the greens. And it shouldn't take an article, with roughly 900 words, to realize this little girl will grow up to be something bigger than the game of golf—or realize this little girl's big game could go on and do bigger things for women in golf.
The ten-year-old was asked about her goals—she has a lot of them—but one that stood out and became so inspirational was her response:
"I want to become the first woman to play in the Masters," -Katelyn Huber.
She has a few more courses to conquer before then; like middle school, high school, and maybe even the University of Florida.
With the way time is flying, those courses will be here before her, and her parents know it. So before she goes off to conquer the world, you should become very familiar with Kate.
Gainesville, the state of Florida, the world—meet Katelyn Huber.
Katelyn, go meet the rest of the world and all of the courses it has to offer.
Show them you're a hole-in-one.