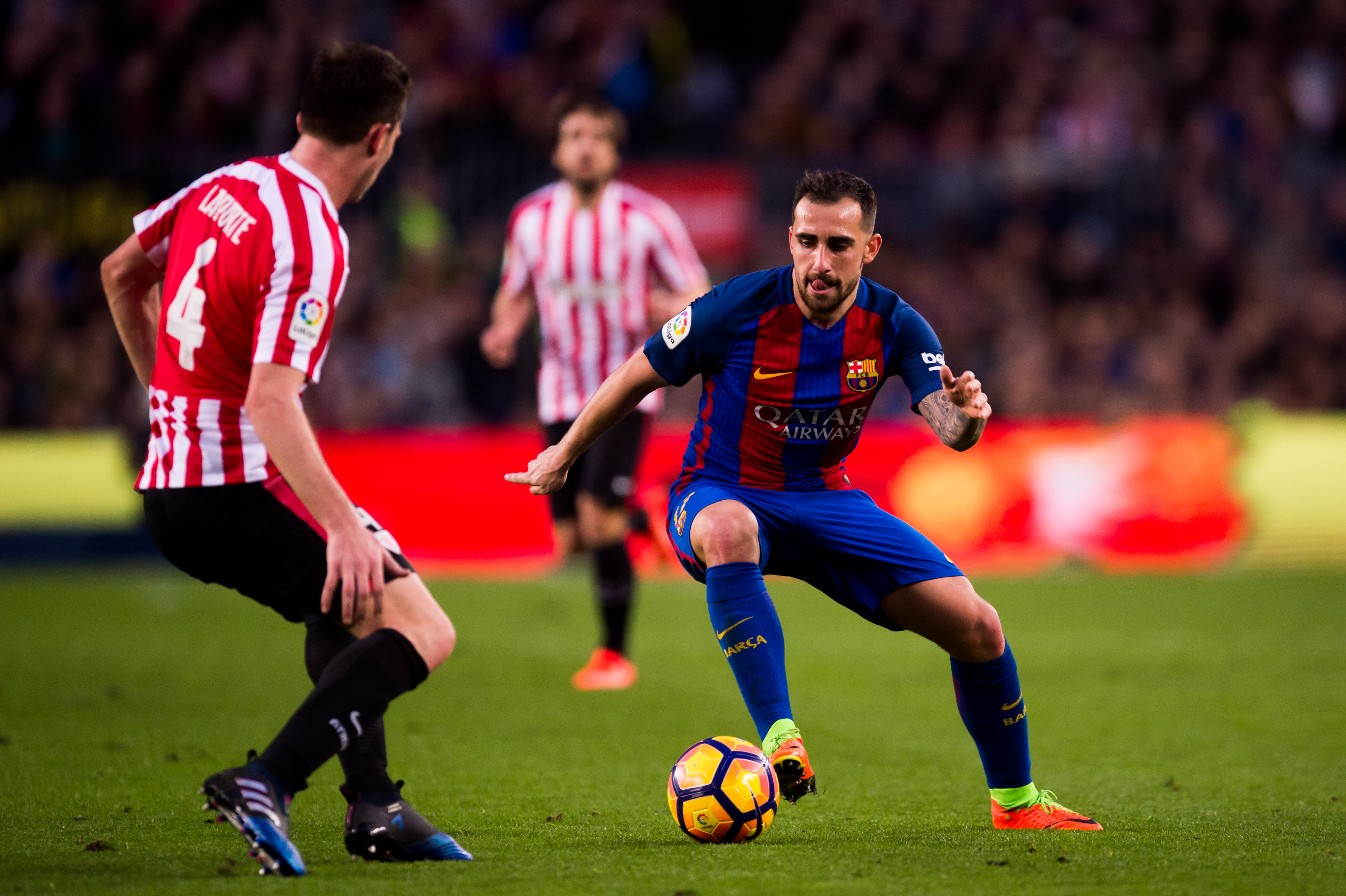 FC Barcelona 3-0 Athletic Club
Lineups:
FC Barcelona: Ter Stegen; Vidal, Piqué, Umtiti, Mathieu; Rafinha, Gomes, Turan; Messi, Alcácer, Neymar. (4-3-3)
Athletic Club: Iraizoz; De Marcos, Yeray, Laporte, Balenziaga; San José, Iturraspe; Lekue, García, Muniain; Williams. (4-2-3-1)
This past week was like a roller coaster for FC Barcelona. Last Sunday, they tied 1-1 against Real Betis and let Real Madrid extend their lead in the league table. Then on Wednesday, they got a 2-1 victory in an always feisty game against Atlético de Madrid at the Vicente Calderón Stadium. They went back to Camp Nou to face Athletic Club and put an early pressure on Real Madrid and Sevilla FC.
Before the game, there was a lot of uncertainty wether or not Sergio Busquets and Andrés Iniesta would play against Athletic Club. They did not play the game. Luis Enrique made interesting rotations that ended up paying dividends and let rest a lot of players for the second leg against Atlético de Madrid in the Copa del Rey semifinals. The starting fullbacks were Aleix Vidal and Jérémy Mathieu — a position that he used to play when he was at Valencia CF; André Gomes played as the center-midfielder — he normally plays as an interior midfielder; Rafinha and Arda Turan were the interiors — both players have had their best performances while playing as wingers; Enrique gave Luis Suárez a rest and put Paco Alcácer instead.
On the other side, Athletic Club started the game with their stellar lineup, but with one tweak on it: After tough months battling cancer, Yeray Álvarez López made an emotional comeback to the starting lineup. A 4-2-3-1 scheme that has let Ernesto Valverde's men deploy their intense, high pressure on the possessor and the space.
This tactic was not an exception even against Barcelona. Since the beginning of the game, Athletic Club were able to block every short pass and build-up made by Barcelona's backline. Gerard Piqué and Samuel Umtiti had problems connecting with Gomes, Turan and Rafinha. The one who struggled the most was Gomes, who was in charge of replacing the irreplaceable Busquets. Both Mikel San José and Raúl García made his life imposible by anticipating to every pass sent by any of the defenders to him and blocking his vision from the passing lanes. This double marking forced Barcelona to send long balls to the forwards.
Athletic Club were dominating Barcelona pleasantly on every facet of the game. The visitors had couple of clear goal chances through García and Iñaki Williams. But this is when Barcelona's individual talent comes in play when things are not going well. Neymar, a player who has been unfairly criticized for his lack of goals, had an amazing game by pulling the strings of every offensive transition of his team.
A creative motor engine who used his dribbling abilities to drag rivals and pass over them. In fact, this is how the first goal for Barcelona came in the 18th minute of the game. Neymar received a perfectly measured long diagonal on the left wing and then made the cut while dribbling a defender to find Alcácer, who only had to push the ball and put it inside the net.
Even tough Barcelona punched first, Athletic Club did not loss their composure and sticked to their game plan. Barcelona still had problems to give fluidity to the ball-movement on the midfield and depended to much on Neymar and Lionel Messi's incorporation on the midfield to help with the creative duties.
But it was up until the 40th minute that Barcelona punched once again. This time through a set-piece by Messi. From a difficult angle on the right wing, Messi beat another goalkeeper through a free kick. Gorka Iraizoz measured the direction of the ball well but could not hold it. Goal number 16 for Messi this season in La Liga.
Unlike the first goal, the second goal had a different effect on Athletic Bilbao. They came to the second half with a more conservative attitude. The team dropped the lines a little bit and stopped applying the high-pressure on Barcelona's backline.
This allowed Barcelona to gain more terrain on the midfield area. The lack of aggressiveness by the visitors let Barcelona to play in cruise control for a little bit. Enrique took advantage of this an made an unusual substitution. Sergi Roberto came in in replacement of Messi.
In the 67th minute, four minutes later after the substitution, Barcelona scored their third goal of the game. Vidal scored an incredible "solo" goal after making a diagonal run while dribbling defenders. He beat Iraizoz with his left foot.
This was a crucial victory for Barcelona not only because it puts pressure on Real Madrid, but also because important players had the chance to rest. Busquets and Iniesta might comeback on Tuesday for the game against Atlético Madrid. While also the fullbacks and Suárez will be rested for that game.