The Arkansas Razorbacks will head to Auburn to take on the Tigers in a battle of SEC teams looking to improve their resumes heading into March.
Arkansas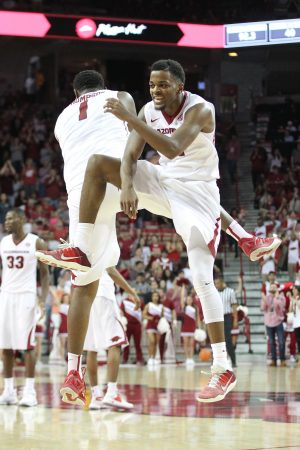 The Razorbacks are 21-7 overall and currently sit in third place in the SEC, tied with South Carolina with a 10-5 conference record. They are riding a four game win streak, which includes a road win over a South Carolina team that was ranked 21st at the time.
While Arkansas is technically on the bubble, they are a near lock to make the tournament and win would solidify that standing. ESPN's Joe Lunardi currently has them projected as a No. 10 seed in the Midwest region.
Razorback Standouts
These Razorbacks are led by forward Moses Kingsley and guards Daryl Macon and Dusty Hannahs.
Kingsley has been a force in the paint all season, putting up 11.9 points per game to go along with 7.8 rebounds. While he ranks in the top five for the conference in rebounding, it's his rim protection that makes him stand out. He leads the SEC in blocks, averaging 2.7 rejections per game.
Meanwhile, Macon and Hannahs are two guards that can hurt teams from the perimeter. They both rank in the top six in the conference in three-pointer's made. Hannahs is third, knocking down his treys at a clip of 38.8%, while Macon sits in sixth, hitting them at an average of 38.6%. Hannahs leads the team in scoring, putting up over 14 points per game, and Macon isn't too far behind, averaging 13.7 points a contest. Macon is also arguably their go-to guy in the clutch.
In the final minute of games this year, @YoD4__ is 25-of-28 from the free throw line, good for 89.3 percent.#MaconIce ❄️ pic.twitter.com/xPk0dSLyzM

— Razorback Basketball (@RazorbackMBB) February 23, 2017
Defense
On defense, the team is a mixed bag. While they rank in the top five of the SEC in both blocks and steals, they are one of the worst rebounding teams in the conference. They average just over 35 rebounds a game, placing them third from the bottom and only ahead of Mississippi State and Vanderbilt.
Auburn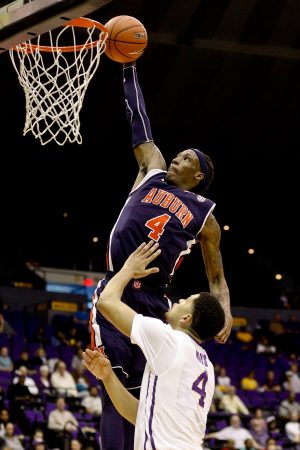 While the Tigers don't seem poised for an NCAA Tournament slot (they're currently not in Joe Lunardi's projections) a couple of wins down the stretch can improve their standing for both the SEC Tournament and a possible NIT berth.
Auburn comes into this one with a 17-11 record, but are just 6-9 in the SEC, leaving them in 10th place. They've lost three out of their past four, including a loss to Florida in which they gave up a season high 114 points. They did win their last outing however, a 98-75 blowout of LSU in Baton Rouge.
Tiger Standouts
Bruce Pearl's team is led by standout freshman Mustapha Heron. He leads the team in both scoring and rebounding, putting up 15 points per game while grabbing 5.8 rebounds per game. Pearl heaped praise on the youngster, calling him "the most consistent freshman" he's ever coached. 
Mustapha Heron has been one of the most productive, consistent and efficient Freshman in CBB. Huge upside cause of his talent and discipline https://t.co/CKIGdUpDV8

— Bruce Pearl (@coachbrucepearl) February 22, 2017
Outside of Heron, the Tigers boast guard Jared Harper and forward Danjel Purifoy, with both players scoring almost 12 points per game. Purifoy was one of the leaders for Auburn in their mid-week win against LSU, putting up 15 points including three makes from downtown to go along with seven rebounds.
Defense
While Auburn can protect the rim well and cause havoc in the passing lanes (they rank in the top five in the SEC for both rebounds and steals), their defense lags far behind their offense. Pearl admitted as much, saying his freshman are more polished offensively than defensively, and it shows on the stat sheet. They rank 319th in the country in points allowed per game, giving up 79.4 points per game.
Tip-off
Tip-off between Arkansas and Auburn is set for Saturday night at 7:30 p.m. from Auburn, Ala.