With the NFL Scouting Combine underway and free agency approaching, the Chicago Bears are keeping their eyes open for new faces to add to their squad next season. Chicago Bears head coach John Fox says the team is in a good position currency-wise to improve their team next year. The Bears also have the third pick in the first round of the 2017 NFL Draft. Therefore, they need to keep their options open.
Searching For A New Quarterback
In December of 2016, the Chicago Bears' Jay Cutler had a surgery to repair a torn right labrum in his throwing shoulder and was placed on injured reserve.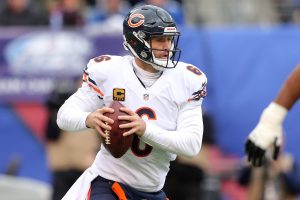 Following the surgery, Cutler is still not medically cleared. Since the end of last season, the Bears have been looking to trade Cutler. If the Bears decide to trade or release the quarterback, a $13 million salary-cap space would open up for the team. Chicago is waiting on Cutler to become healthy enough to pass a physical before they make any moves. Head coach John Fox believes Cutler is a great competitor.
Chicago Bears general manager Ryan Pace describes Cutler's situation as "fluid." Cutler is under contract with the Bears until 2020. According to ESPN staff writer Jeff Dickerson, Pace's main priority for the draft is quarterback.
The Bears salary-cap flexibility has received an A grade with an approximate space of $51.5 million. The Bears have the ability to be one of the most active teams in free agency. It'll be curious to see what the Bears decide during free agency.
https://twitter.com/ChicagoBears/status/837374768013783040
Exactly how the Bears decide to address the quarterback situation remains to be seen.