NCAA Women's Tournament Recap
Of the eight SEC teams that started out the NCAA Women's Tournament, four teams still remain. Texas A&M and Tennessee are still trying to get into the third round of play to join South Carolina and Mississippi St. All four Number 1 seeds are still alive in the tournament. The question is can any of these teams give Uconn a run for their money?
SEC Teams Still Fighting
Texas A&M has made it into the 2nd round after defeating Penn State  63-61. No. 5 seed Texas A&M will face No.4 UCLA tonight at 10:05 on ESPN U. If the Aggies are able to defeat the Bruins, then next up could be the unstoppable UConn Huskies (if they beat Syracuse).
Tennessee defeated Dayton in the first round by a score of 66-57. Tennessee is competing for a spot in the third round of the tournament tonight as they take on Louisville. The game's tipoff tonight is set for 6:45 on ESPN 2.
Not only are the No. 1 seeded South Carolina Gamecocks still standing strong in the tournament, but so is their No. 7 seeded men's counterpart (they have made it into the Sweet Sixteen). The women have had a terrific season, rounding out with a 27-4 record. Only losing to Duke, Tennessee, Missouri, and  UConn. The Gamecocks defeated UNC Asheville in the first round of the tournament by an impressive 90-40 score. They then beat No. 6 seed Arizona St. 71-68. Even though they won the game against the Sun Devils, they lost a key player in junior guard Allisha Gray to injury. Late in the game, Gray fell onto her knee and had to leave the game after racking up 11 points and eight rebounds. The team is hopeful she will be able return when they face the winner of the Quinnipiac vs Marquette game.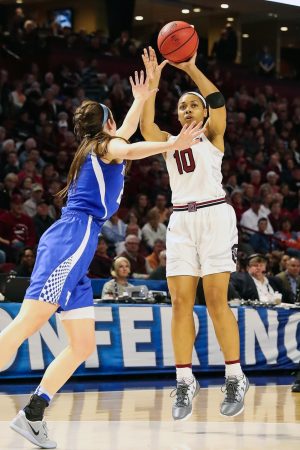 No. 2 seed Misissippi St has made it into the third round, where they will play the winner of the Oklahoma vs Washington game. Mississippi St. beat Troy in the first round by a score of 110-69. In the second round, they defeated Depaul 92-71.
UConn Setting Records
UConn tied the record for the most points in a first round game, after they defeated Albany 116-55. Following the victory, UConn now has six wins in the NCAA tournament by more than 60 points. No other team has gotten more two than wins by a 60 point margin or greater. Not to mention, their 108-game winning streak remains in tact. Uconn looks keep up the momentum as they face Syracuse tonight at 6:35.
UConn will face Syracuse in a rematch of last year's national championship game where the Huskies won 82-51 last year. Syracuse will try to make use of Gabby Cooper who is a freshman guard that had eight 3-pointers in the first round against Iowa St., setting a school record.
Teams to Watch For
Notre Dame and Baylor are notable mentions in the tournament. Both teams are the top seeds on their respective sides of the bracket.
Baylor will face California tonight at 9:10 p.m. on ESPN 2 to try to earn a spot in the third round.
"My heart just sank."

Notre Dame reacts to star Brianna Turner getting injury. She'll have an MRI Monday: https://t.co/DVadTMfCiD pic.twitter.com/NnYpMB7rKS

— Angelo Di Carlo (@angdicarlowndu) March 20, 2017
Notre Dame will be facing Ohio St. in the third round. However, in their last game, Fighting Irish junior forward Brianna Turner had to leave the game in the last minute after her knee seemed to buckle. She is currently Notre Dame's leading scorer with 15.5 points per-game and rebounder with 7.2 on the season.